John Burwell did a good job except some of his dates were off by several years and he, like many of the TMA people, forget that the work at WTMA was done way way back in the late 50s and early 60s by George Wilson and folks like Rick Shaw and a list of great jocks with comedy and standup appeal. Otherwise a wonderful piece of work. (Webmaster's note: John Burwell responds to Jerry's initial comments here.)
As for TMA audio in the 60s and early 70s, the gear was 30 years old by 1971 except for a CBS Volumax that fed both the AM and FM transmitters. In 1972 Bill Dudley (the chief engineer after Bill Jones in 1971) talked Chuck Smith into buying not only a new 20KW FM transmitter for WPXI but a piece of junk BC5H AM and BC 1H AM package for WTMA. We started killing TMA when we upgraded to modern crap that could not hold a candle to the old heavy metal post-WWII AM boxes.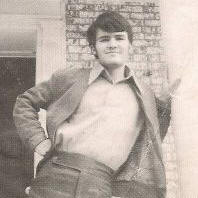 Jerry Smith in 1971
When Sconnix showed up in 1979, they totally destroyed the TMA audio and created the first crappy AM audio in Charleston with an AM DAP box that ran full-tilt clipping. I could not listen to TMA on any radio that I tried. These real men of profit raped and plundered and in a few years created the city's first on-air campaign that worked to kill off any image of great radio with their WSB-type image liners.
I was fired as assistant chief in 1979 from my $400 per month contract for continually readjusting the audio on the station where I was doing a 9p to 1a Sunday-Monday Contemporary Christian Radio Show. I kept forgetting to put back the EQ and clipping to the point that it spit and fuzzed in the air monitor. Their engineer-tech was [name withheld], a guy who is probably a director of engineering or owner somewhere today because he certainly lacked any and all knowledge of radio tech ears and eyes.
I think God was trying to tell me something about that time as well. I worked at TMA from December 1970 until March 1973 and returned in 1974 through 1979 as Charles McHan's assistant chief or contract tech and doing my Christian radio show there in 1979-1980. What I remember most about TMA was walking into the long hallway the first time on a Saturday afternoon drive-by visit in 1969 when Bill Sharpe was the weekend newsman and met me at the side door, while I heard the old RCA studio speaker and tube power amp blasting out rock music like I never heard before. The old Westinghouse 5HV1 with its giant power tubes glowed an eerie orange and blue, and the modulation transformer-reactor in the cage talked loudly all of time time sending its own vibrating message complete with bass and crisp high-frequency sounds that could be heard down the hall as I departed that first visit.
When I came back in the Fall of 70, they were looking for a chief engineer because Harold, the 70-year old chief had walked off the job, later emerging at WCSC-TV as a studio maintenance man. He was a brilliant and gifted man who probably became fed up with the cheap budget the old man laid out before him year after year. When I finally met him in 1973 I think I scared him with my knowledge of his handiwork at the Mighty TMA. Harold was not a man who enjoyed praise and spotlight. But in 1970 WTMA had good old AM audio that was easily differentiated all over the South during the minutes before sunset and often late night as I had driven across the Piedmont area of Carolina.
I was a teen age werewolf wannabe tech-DJ at WKDX in Hamlet, North Carolina also operating on 1250 on the dial. We always turned off the 1000-watt station at sundown and immediately were able to hear the Big 1250 (WTMA) booming in on the manager's stereo set at the front office doorway. I would ride the 20 miles to Wadesboro in the late 60s tuned to Uncle Booby Nash from the downtown studio where TMA was in those days. It was that year that I first met another genius and later roommate Bill Dudley who became the TMA chief in 1971.
When I was offered a job at WLCY in Tampa and also an overnight shift at WTMA, I dropped out of University of South Carolina engineering school and took the job at WTMA because I liked the Tom Merriman (TM Productions) jingle package that TMA had; plus it was the station that sounded like fun, despite the fact that WLCY was paying nearly $225 a week to WTMA's $125 a week for the all-night show.
The real joy of TMA was meeting generations of people who had grown up listening to TMA and the Big Ape out of Jacksonville since the late 50s and would listen to everything that the station did including news and commercials. We must not forget the late Ray Campbell, news director and his hustling staff members like Bill Sharpe and Frank O. Hunt among others.
WTMA was a radio station for the whole family. Bob Nash was the controversial guy with his little cuts and comments. The rest of the station was good voices and guys who were just glad to be sitting on the marsh playing the hits. It was a time where the era of the 30s and the 40s were giving way to American and British Rock and the merger was never better than the 60s and 70s where people would listen the the light rock and the punching rock on the same spot on the dial. It was "1900 Yesterday" with Liz Damon's Orient Express and Perry Como's "It's Impossible" as much as it was the Rolling Stones on a Golden Weekend doing "Honky Tonk Women". It was a time when people waved and smiled and tried new things like pot and free love and living at home with mom and dad who were still together while they went to Baptist College or Trident Tech or "El Cid". It was Charleston-post "Gone With The Wind" and WTMA was the centerfold of Radio's Music Magazine.
On the other side of the river was WCSC-TV and the Rivers Family's pride and joy. Between TMA and WCSC-TV there really was nothing much left to see or hear. And life after the Civil War was pretty much the same until TMA was sold to the first whores of Babylon in 1980. Life in Charleston is not the same nor was it ever in the GOOD BOOK for us to be so certain that great radio and historic cities would in fact live their lives together forever. But there is a great value in seeing the end of an era.
One can expect those who were on the outside looking in to rewrite the history and rob some of the glory. Then there are those who were on the inside who noticed a whole new world on the outside once the final curtain came down and they moved on into the next chapter of growing up unable to forget the great memories, wonderful people, and treasured sights and sounds that will forever pattern their thinking in whatever they are doing the rest of their lives.
As John Burwell stated, the little things are the things you remember the most. It was those classic movies at Charles McHan's house and the hobbies and habits, even the drunkenness and stupidity of all of the dumb things our people survived that made us really appreciative of our Creator and His ultimate plan for us as staffers and the listeners to have passed the way of WTMA and its moment in time to keep us looking upward for the hope of life beyond TMA and even life beyond this world as we in our own time leave this Earth behind.
I think I have learned that almost every region of our great nation enjoyed one or two great radio stations from the advent of the wireless to the advent of the corporate raider with a deaf ear and a blind eye for a sharpened pencil, and a home somewhere in a distant city that shared the same value as our Holy City lost another radio station to Die-TECH...or was that Die DJ?
Today WTMA engineer Charles McHan lives a somewhat reclusive life. Sometimes I think he is akin to the Brown Recluse family.
We did have some brilliant techs at TMA starting with Harold Kramer, a humble Christian fellow as best as he would discuss it.
Gordon Knight was chief engineer at the TV 5 transmitter for many many years and did the radio circuit as chief engineer for WOKE and WQSN up until 1975.

We had a guy named Bill Jones who took over from Kramer in 1970 and stayed in touch until a motorcycle accident in Elizabethtown, KY in 1976 and was in a coma for a year. When he came out he remembered nothing except his name. Strangely he remembered me, Chuck Smith, and a few of the TMA Good Guys. I visited with him in March 1977 at his home. He had a very beautiful wife who was somewhat unhappy because he could not work, could not remember if and when he had eaten, and fairly quickly was getting depressed. Bill could remember the day he committed his life to Jesus as a kid, recalled his own son fairly well and his wife of 20 years. Other than that and the year at TMA, he was helpless. On Thanksgiving of 1979 from Charleston, I called his home to say hello and got no answer. His wife wrote me at Christmas that he had taken his life that very day shortly after I tried to reach him. In his letter he said he realized that he was helpless and suffering from deep depression and just wanted to go the Heaven and be with Jesus. He used a 45 pistol and one shot to the head.
Bill built a series of speakers that we used at WTMA long after his departure in 1971 before the arrival of William G. Dudley, a good friend of John Trenton, the TMA PD for many years as you recall. Both of these men were extremely creative and gifted beyond just radio guys. Bill Dudley later left TMA and took over WKTM FM 102.1 in 1974 and ran it until buying it from Ansley Cohen. Eventually that faithful TMA Crew was hopping all over the city and KTM, started in 73 by a group of TMA rejects and all-night guys, gave TMA their first scare in a long time. Bill Dudley took the fun part at WKTM and turned it into a good solid moneymaker a year after the station changed from country to rock.
From a Christian prospective, there was an ice storm in 1979 that crippled the city. I was working for WCSC Radio as fulltime engineer, and for WKTM, WQSN, and 3WZ-WPAL as contract engineer. We were doing a 4 hour Christian music show on the worst night of the ice storm when everything but WTMA went dark. I got the call that WCSC-TV had lost power on Rifle Range Road and WXTC was also down. We were on the generator at 500 watts at the end of Orange Grove Road and covered the whole Low Country as a source of news updates. Al Camay came into the station about 9:30 that night and we took it upon ourselves to insert news and tidbits about the weather between the Christian Rock music. About 10:00 p.m. I starting airing the Mike Warnke testimony (later found out to be an exaggeration) with breaks for school data. When we gave out our Love Lines phone numbers, the overload shut down the phones on Dorchester Road. We received thousands of calls with multiple people on line to the point that we had to ask for no more calls.
I remember it well because right after we switched back to regular programming at 1:00 a.m., I took about three or four tear-jerking calls from people saying it was the first night ever in their family life that they had sat close to their fires and huddled with their family members to hear something that caused them to search their hearts and in some instances rededicate their lives to Jesus Christ. The whole experience of old gear, cheap wages and even Ted Turner as CEO was worth it for that one night on the Mighty TMA when we were able to reach our captive audience city with something besides SAVE SAVE SAVE or HURRY HURRY HURRY. I do have a few of those letters from 25 years ago when the lights went out. Too bad TMA by that time was Sconnix and just another station to the folks from Laconia, NH. Recognizing the value of people, the glory of long term service, and the general need that we have for each other are the tools to make memories that are lasting.
I remember Jim Rooke stopping several of us ex-TMA jocks a few months after we had switched WKTM to rock in 1973. He introduced himself as if necessary and told us we had the keys to success and that he hoped Mr. Cohen knew how good he had it with us there. He paused and made a wonderful and lifelong philosophy. Mr. Rooke said we had sincerity and enthusiasm and not to lose it for anything else. Now 31 years later I remind people of what Jim said that night as we were eating our Shoney's Beef Stew. Seems those people we think are just there really can have purpose and meaning in their lives. I will forever remember Jim Rooke's kindness and the words of success that have escaped so many radio stations.

That same opportunity afforded us some 20 years later on September 21,1989. During the summer of that year we had put together a group of South Florida investors and purchased the BIG APE 50,000 AM facility in Jacksonville. We had a 3 million dollar business plan including an FM (92.7 WPDQ-FM) that would allow us to co-locate both stations and do oldies on FM and Music/News-Talk on 690. When we closed the deal on July 1, I was handed the keys and the station was turned off the air for 3 days per agreement with WAPE-FM. We were forced to drop the BIG APE Calls because the FM was there doing CHR and number one. We were waiting to close on the FM, get the PDQ calls and get rolling.
The FM deal fell thru, the bank rolled up the carpet and we ended up paying cash for the Big 690, leaving us with stock pledges for working capital. From July 3 to the week of Hugo we were frantically trying to fix water leaks in the homemade transmitter and find money to replace bad tubes and many other little problems that I had learned about during my 1981-1988 stint as chief or back-up contract engineer. I was at WSVE-AM 1280's transmitter site when I heard the alert that Hugo could hit anywhere along the coast from Jacksonville northward. I had been praying since that first day that we dedicated WAPE 690 to the Lord for his purpose for something to bring us to the forefront. We had hired the ex-APE jocks from the 60s, and one of them had gone out and borrowed money to invest $50,000 in the station at 12 percent interest. It was not a pleasant journey at that point.
As I was turning to leave the WSVE site, I heard a little small voice say, "Call other stations and make your facility available for them during Hugo!" That I did immediately on the WSVE telephone, which I recall because the phone had no long distance service and I used my home phone credit card calling plan. I contacted every station from Brunswick to Wilmington giving them our phone numbers and offering to put them on live if they were in need of a facility.
In Charleston, I called and left Channel 5 News a message. I called and spoke with Dan Moon at TMA and the news operation. When the storm made landfall, we had made the decision to stay on at full power for that one night to allow people to call collect and report any needs or troubles that might be helpful. We had no idea just how terrible Hugo would be and by 12 midnight, purely by accident after having been up all day working to get the big 50 kilowatt transmitter to run quietly. (Arcing in the water jackets caused by bubbles and heating imbalance was plaguing the one tube we did not replace). By sunup we had logged 360 calls on the air, with hundreds on hold just wanting to check in. Our collect call bill for one night was well over $1500. We stopped collect calls about 9:00 a.m. because we were non-commercial during the next eight days taking calls. It was the best of times for radio and for the people of the Low Country.
Strange how we as a nation can respond to a crisis when it hits us. Most people will risk their life to save another, except when it comes for ice and fresh water. I tell you the calls, the praise reports, and the miracles that I witnessed those 8 days and the weeks that followed as we hit the road to Charleston to visit all the way to the Christmas season were the best months of radio and its real purpose for Christians. We got millions of dollars in TV time as all of our local TV stations were on site at the Orange Park Studio where we had just dug out the old Big Ape Pool and exposed the old studio lobby walls to names that had been covered up since Jack Gale and the Kaplans walled up the original tongue-and-groove paneling some 18 years earlier. We were live on TV all that first day for more than two hours on each TV station. We could not have asked for more that we got. And as everything that God gives, so we must wait for the crop.
In this situation the crop was cards and letters and smiling faces that drove to Florida to meet us and thank us. We sold less than $4000 in advertising that came from the whole adventure. The station's news image overrode the music and the competition decided we were vulnerable so they switched the FM to Oldies 96.1 Cool FM right in the middle of our billboard campaign for "Real Radio for Real People". When the Hugo days had passed, the one investor who borrowed money called me to say that he realized he had made a bad decision based on his emotional interest in WAPE (Allan Sands). But he further said that if it cost him $50,000 plus interest, he would do it again just to see the people who came to visit and the read the cards and letters that were associated with the Hugo broadcasts.
During the month of October 1989, we broadcast WTMA from 8 p.m. till midnight on 690's nighttime power because people seemed to be interested in what was going on at the scene. It was the first and only time a radio station carried such broadcasts from that far away concerning disaster recovery. We found out later that several CEOs of big companies such as Publix Grocery Stores heard the coverage and continued to send trucks up to the scene. It all worked out for the good.
Today the WPDQ call letters are in New Jersey on a non-commercial FM but 690 AM is alive and number one in Jacksonville with a News-Talk format as WOKV.

Jerry Smith
Broadcast Engineer and Consultant
Jacksonville, Florida
______________________
Are you a former WTMA employee or listener with a story to share?
We'd love to hear from you! E-mail John Quincy.