I was a part of the broadcasting industry from 1967 to 1981, and the majority of my time was spent at WTMA. I loved the station and I loved working there. What follows is an observation of why, together with a brief history of our radio market as I remember it.

WTMA owned Charleston from the early 1960s until the late 1970s. In 1974 (my first year there), WTMA had a little over twice the number of listeners as the next station (WPAL). FM penetration in 1974 was minor. Most car radios were still AM only. In AM Drive, we had 40 shares. In afternoons with Booby Nash the numbers went up to 50 shares.

In 1974 there were only 14 AMs and FMs in the market. There were only two ratings periods at the time: April/May and October/ November. Chuck Smith (Mr. Smith to us) owned WTMA throughout most of the period, and was not afraid to spend money to make money. It was common for us to give away a total of $10,000 a year during rating periods. (That's about $50,000 in today's money)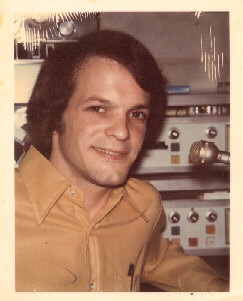 John Burwell at WTMA in 1974
Chuck Smith sold WTMA for a brief period (1972-1974) to Ted Turner. Ted sold it back to Chuck and used the money to buy a broken-down UHF TV station in Atlanta. That broken-down TV station became WTBS, and the rest is history.

It's hard to describe the feeling of working at WTMA in 1974. We were the #1 station in South Carolina, and we had higher cumulative ratings than any station in the entire Southeast, including Atlanta. We knew we were good. And we were. The entire staff and management worked together as one big team. All of us ate and slept WTMA, and no one punched a clock. Ten-hour days were not uncommon. We made regular public appearances as the TMA Good Guys, and all of us showed up at remotes and other live events. I think, most importantly, we actually thought we were invincible.

Each TMA jock had a desk in the announcer's area. Each desk had a typewriter. One was expected to work on show prep in the hours in which he was not on the air. Some of us (myself included) were also expected to write and produce commercials during our off-air time. When I arrived, the time slots were as follows: 6a-9a, 9a-noon, noon-3p, 3p-7p, 7-midnight, and midnight-6a.

When WTMA hired me, I was the morning drive (6a-9) DJ at WNOK in Columbia. I was hired to do the overnight shift at TMA (midnight to 6a). I took the job for two reasons: first, WTMA was the top-rated station in the southeast, and this was an opportunity for me to hit the "big-time." I figured I could get my foot in the door, and then move to another time slot when a new position opened. Secondly, at the time WTMA was paying a lot of money for air talent. I was offered $2,500 a year more than I was making doing the morning show at WNOK. In today's money, that's a $10,500 yearly pay increase, and that was the salary for the lowest-paid airshift on the station! Six months after I arrived, Steve Russell was moved to WPXI (our FM) to be their operations manager. I was given his time slot (9a to noon). I stayed in middays for most of my on-air time at WTMA.

Two interesting notes from my first week on the job:

1. About my second or third day, I arrived at the office and an older man (whom I hadn't met) asked me to take his car and sit in the gas lines (The energy crisis was raging at the time) and fill his tank. I told him I didn't think I was allowed to leave the studio for personal reasons. He said he was certain that it would be all right for me to go and wait in the gas lines for him. I told him that he would have to ask our GM for permission. He walked off with a frustrated look, and came back about 30 seconds later, handed me his keys, and said, "Mr. Trenton agrees with me." On my way out, I asked another jock if he knew the man for whom I was going to running errands. He said, "That's Chuck Smith. He's buying this station back from Ted Turner!" Oh.

2. At my first evening staff meeting, our head salesman, Rudi Gresham (who was the template for Herb on the old TV series WKRP in Cincinnati), hired a stripper from the Joker Lounge to come in and "streak" us. (Streaking was becoming the a fad on college campuses). She evidently didn't know what streaking was, because she ended up performing her act for us. The stripper took Booby Nash's glasses off his head and she and squeezed them between her ample body parts. The glasses broke! Booby didn't think it was funny at all!

By the time I arrived in 1974, WTMA-FM had become WPXI, thanks to an FCC ruling that greatly restricted simulcasting. WPXI was automated and used Bonneville's "Beautiful Music" package. "This is Pixie! WPXI. Beautiful Music for the Lowcountry," was the canned voice's familiar image ID. The automation was a primitive step-computer programmed by rolls of punch-tape. You should have seen the huge tape reels and "Carousel" cart machines! Steve Russell staffed the station during the day, but after 5:00, the TMA news department was responsible for changing the tape reels. From midnight to six, the tape changing responsibility fell to the all-night jock.

In 1974, WTMA's Top 40 competition was WKTM (now WXLY). Former WTMA afternoon drive man J.J. Scott was the PD, and they were nowhere close to us in 12+ ratings numbers. They were, however, second to us in 18-24 men, and I remember that caused a bit of concern. As a result, we cut our number of "new" songs to one per hour, increased our hot rotation to every three hours, and decided to play "Twin-Spins" through all the quarter hours. We moved the weather forecasts from :15 and :45 to :10 and :40, and delivered the forecasts over the intros of songs. We also began to cluster our spots. Instead of playing a maximum of two spots at a time, we clustered them into five two-minute stop sets. (maximum of 4-:30's or 2-:60's). We also gave away five thousand dollars in contests. By April/May of 1975, WKTM was a distant third. I think it worked.

At TMA, winning was everything. After I was moved to the 9-noon slot, the General Manager John Trenton, called me into his office. John was a nice guy but he was serious about performance. He said to me, "John, you've made it to the best station in the South. You made it because you are very good at what you do. Your job is to maintain the #1 rating in your time slot. If you can't do that, we will find someone who will. Have I made myself clear?" He had. I did.

The broadcast equipment at WTMA was old, but all of it worked, and it worked well. Management's philosophy was to spend money when needed, but ONLY when needed. If something broke, it was fixed or replaced immediately. We played actual 45 RPM records alternating them between two instant-start turntables. The entire record playlist was kept on a wooden board mounted on top of the broadcast console. Commercials, jingles and show drop-ins were played on a three-stack cart machine. On the right-hand side of the studio there were racks and racks of processing equipment and patch panels. In the back corner of the studio there was a huge wooden box (about 3' by 3') containing the springs for station's reverb unit.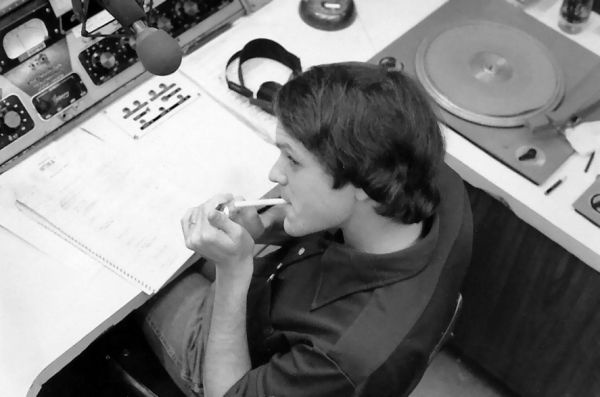 John Burwell lighting one up on the air in 1976
I believe every DJ smoked, and so the walls were…yellow. Patch cords and loose wires were everywhere. Today's OSHA would have shut us down. The studio didn't look all that great, but hey -- this was radio, not TV. (Most of the jocks didn't look all that great, for that matter.)

Sometime in late 1974 our Chief Engineer Bill Dudley, left us to become the GM at WKTM/WNCG. Bill was replaced by Charlie McHan, who I believe was the finest radio engineer in the entire world. I still don't know how he did it, but in 1975 WTMA was the best-sounding AM station in the Southeast, if not in all of America. The signal was loud and compressed, but there was not a hint of distortion in the system. Charlie was also an old movie buff, and I believe he had every old movie that existed recorded on one-inch video tape. (This was before the days of VCRs!) Charlie would regularly invite the staff over to his house to watch movies. I developed my love of Frank Capra movies from times spent with Charlie.

In 1975, ARB changed management and became ARBITRON, and they also changed their sampling techniques. They began to "weigh" the ratings based on skin color. Their idea was that African-Americans were not likely to fill out and return a diary, so they decided that every "black" diary that was returned would count for more rating points than a "white" diary would. They supposedly had a formula for each city based on ethnic breakdown, but for Charleston what it meant was that one black diary was equal to three "white" diaries. Thus, in one book, WPAL went from 6th to 2nd in the market. (April/May, 1975)
We could see the handwriting on the wall, and again, our management didn't know what it meant to lose. Since Arbitron decided to stack the deck, we decided to play to win. Beautiful Music WPXI became WPXI - Super 95 Soul. The station used the same automation equipment, but instead we played hit soul music and the best of Motown's great oldies. We did our own music formatting - based on what the on-air talent, Tony Jameson liked. (Tony was very, very good - an incredible talent.) By October/ November 1975, WPAL was bumped back to third in the market - behind WTMA and WPXI.

WPXI became more of a success than we originally intended it to be. The oldies on WPXI were truly top-40 hits (The Temptations, The Four Tops, The Supremes, etc), and consequently WPXI attracted a considerable crossover audience. People began to go out and buy FM radios so they could listen to WPXI. In 1976, WTMA, for the first time in decades, came in second in the quarter-hour shares. We still ruled the cumes, but WPXI was #1 in quarter-hours. We were responsible for the increase in FM penetration in our own market!

WAPE in Jacksonville also became a force to be reckoned with in 1975 when "The Greaseman" hit the air there. They would show up 5th or 6th in our Arbitrons, which is quite remarkable for a signal that far away.

Top 40 music of this time was getting very, very stale. Disco was coming on strong, and the thump-thump-thump beat of 12-minute singles did not lend itself to a Top 40 format. Most of the music was boring. As a direct result, country music began increasing in popularity across the nation as listeners shifted to anything but disco. CHR stations (as we were becoming known, thanks to a new trade publication, Radio & Records) began to move away from personality radio and more into "time and temperature" stations.

WTMA (wrongly, I think) followed the national trend. In 1974, we used to spend a couple of hours in daily show preparation. We entertained our audience. By early 1976 we simply showed up for our shift, and all we were allowed to say was already there in front of us on 3-by-5 cards. It was more than Booby Nash could take, and he did the unthinkable. He went across the street to WKTM.

I began to focus my creativity in writing and producing commercials. My thought was if I couldn't be creative on the air, I could be at least creative in the stuff that got on the air. I ended up doing about 75% of the stations' in-house commercials, and I loved it. Management loved it as well, and responded by completely refurbishing our production studio with state-of-the-art recording equipment.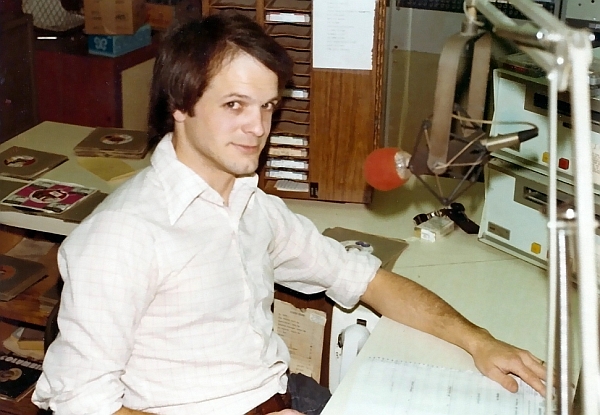 John Burwell at WTMA in 1976
Our ratings continued to move downward in 1976, although we still remained on top in the cumes. But in two years we had gone from having twice as many listeners in quarter-hours and cumes, to losing to WPXI in quarter hour shares and just barely beating WPAL in the cumulative shares.

In 1977 management decided to take a different tact, and hired Bob McLain (who had worked with GM John Trenton and Rick Dees (Disco Duck) in Greensboro NC in the late 60's) as our PD and morning man. Bob loosened the talk-restrictions, brought in a wild man (Tim St. George) to do 7-midnight, and did a great job of rebuilding our sagging morale. We went up 15 points in 12+ in Bob's first book! But Bob was a rabbit, and after a little over a year, he jumped to another rabbit hole (in Virginia).

The Bob McLain era was a fun time for those of us at WTMA. The staff was as united as ever, and sounded great in every single time-slot. I enjoyed being on the air because I could be creative again. I looked forward to being on the air almost as much as I looked forward to recording commercials. We were allowed to entertain the audience with music and personality. It was like our earlier TMA days and we loved it. The McLain era may have been WTMA's finest hour in the 1970s.

Competition was constantly increasing. In late 1976, WCSC (now WXTC) went to an Adult Contemporary format, and brought in Mike Hiott to be their morning man. (I worked with Mike at WNOK in Columbia in the early 70's). He went nowhere in the Charleston ratings, and he moved on to television. WCSC began a consulting relationship with Kent Burkhart, which eventually led to the hiring of C.J. Jones ("CJ and Buzz").

WQSN (1450 AM) made a valiant effort for two Arbitron books in 1976. As 15Q, they rocked, but nobody listened. They fell apart and changed to an oldies format and later returned to country music.

In 1977, WQIZ in St. George sold their 100,000 watt FM frequency to a Washington DC company for a unheard of price of $500,000. The company moved the radio tower closer to Charleston, and set up offices in North Charleston. Q-107 was born, and became quite a thorn in the side to WTMA. One of our former jocks, Gery (Gary) London (nee Chris Pinckney), became their morning man. I was wined and dined by the GM on three separate occasions to be their off-air production director, but I remained steadfastly loyal to WTMA. Q-107 would eventually spend a short stint at the top of the market in the 1980's before becoming WBUB (Bubba 107.5 and now Cat Country 107-5.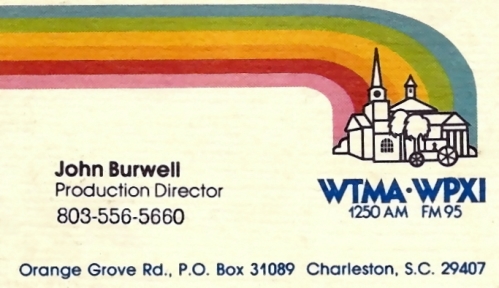 John's 1980 business card
In mid-1978 (Right after Bob McClain left), I was made production director at WTMA and was taken off the air to allow me to devote full-time to commercial production. Management bought me an Ampex 4-channel recorder and some high-powered processing toys for my studio. I was in heaven!

When Bob McClain left, WTMA rehired Booby Nash, and made him the Program Director. But by this time FM penetration was almost dominant. WTMA was still #1 in Morning Drive (Booby's shift) but 2nd to WPXI almost all of the rest of the day in both quarter hours and cumes. Country music also begin to make great gains in the Charleston market. WEZL became quite popular with many former TMA listeners.

In 1979, WCSC made Booby an offer he couldn't refuse, and he left WTMA again. WCSC had also hired C.J. Jones to be their General Manager. C.J. did the first two-man morning show in our area with a side-kick named Buzz Bowman. They were sounding as good or better than us, and we knew it.

Management brought in a new PD for WTMA (I don't recall his last name, but his first name was Randy) who reformatted WTMA into "The New TMA." We continued to top WCSC in the ratings at first, but then the unthinkable happened to us: we were sold.

In late 1980, Chuck Smith sold WTMA and WPXI to Sconnix, an investment group from New Hampshire. Sconnix released John Trenton and brought in a whole new management staff. I remember the first sales meeting I attended with the new owners. We were told, "We're here to show you how real radio is supposed to be done." They reformatted WTMA, and quite frankly, killed it.

Their real interest was in WPXI. They changed the call letters to WSSX in January of 1981, and made a secret arrangement with WWWZ to give them WPXI's announcers and the Urban format. WPXI's call letters were sold to channel 11 television in Pittsburgh, PA. WSSX became an automated hit album-cut station. (I did all the original tape recording and voiceovers for WSSX; I was the first "voice" of 95SX.)

In 1979, I heard and answered a call to ordained ministry and I had been approved to go to seminary in June of 1981. (Seminary is a three-year masters degree program.) I had all intentions of finishing my radio career at WTMA, but I was unable to do it. I found myself constantly disagreeing with the "new ideas" of Sconnix management. In showing us how "…real radio was supposed to be done," they completely forgot that South Carolina is not New Hampshire. Many of their ideas that worked well in New Hampshire bombed down here.

I tolerated the new management as long as I could, but I simply couldn't stand to see what was happening to my first love - WTMA. We lost to WCSC for the first time in our history, and Sconnix didn't care. Their attitude was so different from the staff and management of the old TMA that I found that I simply couldn't take it any more. I quit in February of 1981. After one week of unemployment I was hired as Production Director by WCSC, and I finished my final four months in radio at WCSC.

By the middle of 1981, WSSX was live and highly formatted. Also by the end of 1981, WTMA had slipped to fifth in the market, behind WWWZ, WCSC, WEZL, and Q-107. Sconnix sold WSSX/WTMA in 1985.
With a powerful Talk Radio format, WTMA regained its rightful place in Charleston radio in the 1990s. The future is bright, and I'm glad.

The days of AM Top 40 are indeed golden days of yesterday. WTMA was one of Radio's finest stations in the Top 40-era. I'm proud to have been there, and I'm proud to be a part of WTMA's long and wonderful history. Congratulations, TMA, on 65 years of service!
(More from John Burwell here.)

John Burwell
June, 2004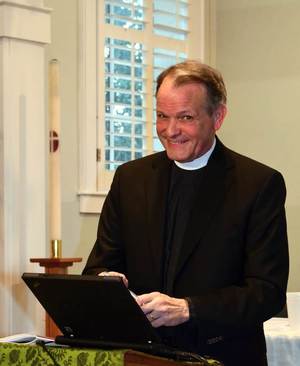 John Burwell Today

Download a John Burwell 1977 WTMA Aircheck
(MP3 Format - 7:56 - 2794 KB)
______________________
Are you a former WTMA employee or listener with a story to share?
We'd love to hear from you! E-mail John Quincy.