WTMA DJ Gery London (Christopher M. Pinckney) passed away on August 26, 2013 after battling with Parkinson's Disease for several years. He was 61.
Obituary
ST. GEORGE - Christopher Michael Pinckney, 61, husband of Melody May Pinckney, of 470 Old St. George Road, St. George, entered into eternal rest on Monday, August 26, 2013, at his residence. A Memorial Service will be held 4:00 PM Friday, August 30, 2013, at Bryant Funeral Home Chapel with the Reverend Jackie Walters. The family will receive friends following the service. Chris was born on December 20, 1951, in Walterboro, SC, a son of the late, Jack Avery and Jacqueline Thompson Pinckney. He was a graduate of Walterboro High School and attended Clemson University. He worked in the computer industry and his love was being a DJ on the radio. He began his career in Walterboro at WALD and spent most of his time at WTMA in Charleston as "Gery London." Surviving is his wife, Melody M. Pinckney, St. George; two sons, Tyler O'Neal Pinckney, Grover and Justin Cotesworth (Lauren) Pinckney, Charleston; a step-daughter, Jennifer P. (Derrick) Messex; grandchildren, Jackson Pinckney, Landon and Owen Messex; sister, Ruthie P. (Doug) Mixson, Lodge; a niece, Caroline Mixson and a nephew, Doug (Jennifer) Mixson, Jr. Memorials may be made to Parkinson Foundation, 1501 North West 9th Ave., Miami, FL 33136 or charity of one's choice.
Published in the Charleston Post & Courier on August 28, 2013
WTMA Reports Gery London's Death
(1:25) - 671 KB - MP3 Format

Gery was a WTMA air personality between 1973 and 1978. On November 4, 2004 he sent us this fine retrospective piece.
"To the Class of the 70's - My Memories"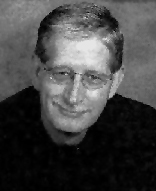 Gery London (2004)
As I sit here this November day with the rain gently falling (yes, the AC is on here!) working on the play list for the 65th anniversary party set for Memorial Day Weekend 2005, I remembered John Quincy [the curator of this Web site] has been after me for a year to pen this article.

As a kid with his transistor radio stuck in his ear 24/7, I remember WTMA AM/FM even before I was in my teen years. My parents used to take the 2-hour drive from Walterboro to Kingstree to visit my Grandmother and Aunt. Dad would ever so graciously let me control the pushbutton AM radio in the 1953 Mercury. It stayed glued to WTMA. Once all the kisses and hugs were exchanged, off I'd run down the dirt road to my cousin's house with my trusty transistor radio. I thought I was the luckiest kid in the world because I had dual earplugs. My cousin and I would share one apiece and spend all afternoon singing out loud with the music while sitting under Grandma's grapevines. Life was good!

In my teen years, nothing changed. I was a WTMA addict. On my 16th birthday Mom and Dad surprised me with a used 1958 VW Bug. Dad helped me customize it, and with him being a NAPA dealer, I got all the parts at cost, so that was like really cool. I remember he ordered me the top-of-the-line radio with dual speakers and even an 8-track tape player. I didn't use the tape player much since WTMA was all I would listen to day and night.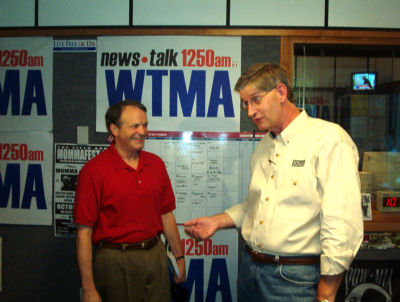 John Burwell and Gery London in June of 2004 at WTMA
My first radio job was at 16 with WALD in Walterboro. After getting out of high school at 3:00 p.m. I'd do afternoons at WALD. Kline Beach saw that radio was truly in my heart and soul and he'd let me play Top 40! Man, let me tell you: "It didn't stink." I guess that cocky attitude has stayed with me for my three decades of radio.

After getting college degrees in business and engineering, I headed back to Walterboro. Kline offered me a full time job but I had to turn it down. It broke his heart because I told him I was going to work at WTMA. With audition tape in hand I headed straight to #1 Radio Park on Orange Grove Road in Charleston. I told the secretary, Barbra Spencer, I wanted to see the PD. No appointment, just cocky me with a tape was escorted back to see General Manager and previous Program Director John Trenton.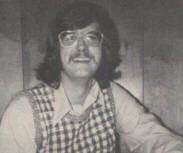 Gery London "back in the day"

John and I went into the production room. He cued up the tape and listened to the whole thing (at least 10 minutes worth of a scoped aircheck). After it was over, he flipped the lever on the old Ampex machine and stared straight into my eyes without saying a word. It seemed like forever before either of us spoke. I boldly asked him, "Well, when do I start?" thinking I actually had a shot in hell to work for such a great PD/GM and at WTMA! He thought for a couple of seconds and then smiled. My heart was about to come out of my chest. John looked me square in the eye and said, "Be here Friday night at midnight." I thought I was going to DIE! John said his all-night guy just quit and I was his replacement. Then John introduced me to the new PD, J.J. Scott and said, "Here's your all-night guy. What's your name again?"

J.J. and I talked about two hours, going over the format and the do's and don'ts. Suddenly J.J.'s phone rang. It was Trenton. "Have your new employee fill out his paperwork and pickup a key." Time frame - early 1973.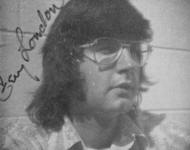 Hey, didn't Elvis have those glasses?
Friday night and my first shift came. John Trenton called me on the hotline after my first few breaks and calmly said, "Stop screaming and talk" and hung up. Oh s*** I'm doomed. The next day Trenton called and asked me to come in. I knew I was going to be canned! Much to my astonishment, he taped the entire show. Off to the production room we went. Much to my amazement he had very little criticism of my first show. Just the opposite flowed out of that breathtaking voice of his. "Gery, you have more raw talent than I've seen in a long time." I was speechless.

Within a few months Billy Smith left WTMA and Keith Nichols and I split the midday shift. I worked 9 a.m. to noon and Keith did noon to 3 p.m. I was in heaven! The ARB and Pulse were kind to this kid from Walterboro: first book #1. Even the "old man" Chuck Smith was impressed. He pulled me into his office to congratulate me. We talked for a while. During our conversation I found out he used to work at WLS in Chicago. I was truly impressed. I told Mr. Smith I hoped WLS would be my next stop in my radio career. For years he'd send me a Christmas card with the line "One day I'll be listening to you on WLS."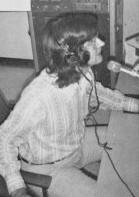 GL cutting another world class piece of WTMA production
One day in 1975, afternoon jock Uncle Booby Nash left WTMA to go do mornings at cross-town rival WKTM. Lee Richards (who was now Program Director) and John Trenton set up a meeting with me. Could it possibly be I was considered to replace Booby in afternoon drive? John had one question: "Can you keep up the energy level for afternoons?" I assured them I could. First book out I increased Booby's numbers. Not just a little, but up to a 60 share.

In the 1970's WTMA never sounded better. All the personalities had great voices. Lee Richards in AM drive. Keith Nichols in middays. Me in PM drive, Steve Russell at nights. WTMA sounded as good -- if not better -- than any radio station in America, it was very BOSS Radio. I know we could compete in any market and win. It was truly awesome. The ratings were out of the roof. We were the number one cumed station in America.

Life was good, the crew was great to work with, and the money wasn't bad. I remember Top 40 station WQXI in Atlanta offered me the midday shift for, like, $350 a week. I laughed telling them I was making more at WTMA (in a much smaller market) than they were offering. I was fortunate to have many offers while at WTMA but why leave? It was such an awesome station.

I was ruthless. I would step on the competition every chance I could and worked my butt off doing PR all over town. Truly a pain at times, but it paid off.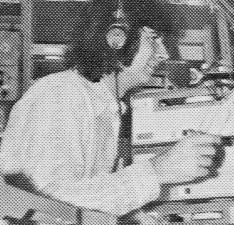 "76 degrees at the Mighty TMA!"
My last show was in 1978. I can remember the last record I played. It was "My Way" by Elvis. My time at WTMA was like living a life long dream that came true.

I'd like to extend a very special thank you to Ken Harlan (Ken Cocker) who wrote a wonderful article on the WKTM page on this Website.

I would like to dedicate my memories to the man and close friend who made it all happen: John Trenton.

Also, special thanks to John Quincy for all the hard work he's been doing on the WTMA Memories Website.

In closing, don't forget we are going to have the biggest WTMA reunion and 60's-style sock-hop on May 27, 2005. Many of WTMA's former personalities will be there. Get more details here.

See y'all in May 2005. Kirk Varner promises to wear his heart-shaped boxers. (See this page to figure out what I'm talking about.)

Gery London
Class of the 70's - The best in America.



Al Kamhi, Gery London, John Quincy and Booby Nash (2005)

Gery wrote this on June 8, 2009: "I started at my hometown radio station (WALD AM/FM in Walterboro) at the age of 14. During my college years I worked weekends at WSPA-TV and later WORD-AM in Spartanburg.

"After graduation I did afternoons at a 10 kilowatt AM station (I forgot the calls) in Richmond, VA, then jocked at WLEE in Richmond for a short while, working with PD and close friend Pen Payton.

"I returned to Charleston and was hired at WTMA in 1973 do overnights. I only did overnights for about a month, and then Keith Nichols and I split middays (me 9a-12pm, Keith 12p-3p). JJ Scott was the WTMA PD. (He replaced John Trenton who moved to the GM spot.)

"I left WTMA shortly in 1973-74 (can't remember the exact date) to do afternoons at Q-104 in Norfolk, VA. I worked there just a month when JJ Scott and Bill Dudley brought me back to Charleston to do AM Drive at WKTM, which had just switched to Top 40. WTMA rehired me in a manner of months, after Booby Nash left to go to WKTM. I then did afternoon drive at WTMA
until late 1978.

"I was hired as operations manager and afternoons at Q-107 in St. George. I stayed at Q-107 (after driving the ratings to #1 12+ the first book in late 1979 - double digits again) and went from Operations Manager to Sales Exec around 1985 and did very well until I quit on the eve of Hurricane Hugo over a disagreement to sell adds on the eve of such a tragic storm.

"I left Charleston and was hired the day after Hugo at the new 100 kilowatt FM, 99.7 WHTK. Even though it was licensed to Hilton Head, it put out a city-grade signal over Charleston and Savannah. I did afternoons there for a couple of years. (I pulled a 8 share in Charleston and Savannah.)

"I returned to Walterboro to run WALD AM/FM in 1991/92. I stayed there until my good friend and GM of WSSX and WSUY hired me to do Pillow Talk on WSUY (dates unclear). I was very successful with the Pillow Talk program. I pulled a 14 share and TSL was out the roof - almost 4 hours - this was 7pm to midnight to boot!

"From there I disappeared from the public eye while doing some specialized work. Oh yeah, I did own Gery London Productions, a production house that did commercials, v/o work for WCBD TV 2 and other TV and Radio Stations plus other clients. I also had a music company that did dances at local schools all through the '70s through the Q-107 days. Plus I was President of Pinckney and Stone Advertising Company (in the '80s while still in radio). We had a dozen car dealers and our biggest national account was Glassic Pickles (I swear!) -- talk about a conflict of interest. No one at the station really protested since I did buy a lot of radio.

"I resurfaced in the latter '90s as MIS Director for Dorchester County then in late 2000 exited and went to work for the DOD, DOJ, Marines and consulted the Canada Air Force as a Senior Systems Engineer in the C4I Division.

"In late 2003, when I was diagnosed with rare form of Parkinson's, I was forced to retire.

"My happiest days in radio was the best part of a decade I spent at WTMA in the 70s. Without a doubt we had the most talented jocks, the best commercials, the hottest jingles, the right music rotations, the best music, the highest ratings in the history of Charleston radio -- even topping national ratings in some day parts -- but most importantly -- we loved what we did and more importantly we loved every single person who owned a radio - because nearly 75% of them were tuned to WTMA. (That included me as a kid with my transistor radio growing up in Walterboro. I listened to 1250 WTMA day & night!)

"I'm currently building a home recording studio and own a dormant concert sound and lighting company. I have two grown sons (Tyler and Justin), a stepdaughter and two grandsons. Oh yeah, can't forget about my wife, Melody who still puts up with my foolishness! I love each and everyone so much.

"WTMA is more that just a set of call letters of some radio station. Those four letters W T M A stand for all the talented people that came before, during and after me through today with Richard Todd and Rocky D.

"WTMA was and is all the voices behind the mic and the listeners who still have transistors in their radios. One of my favorite things to do is walk on the sandy beaches of Edisto on those long August evenings watching the sunset and reminiscing about it all. Life has been good."
______________________
Are you a former WTMA employee or listener with a story to share?
We'd love to hear from you! E-mail John Quincy.