On July 8, 2004 we received this e-mail from former
WTMA newsman Steve Bell (Steve Beckham):
Good Web site!
I was with WTMA and WPXI from 1975 to 1978. After I had established South Carolina citizenship, I returned to school at the College of Charleston. I worked full-time for WTMA/WPXI, worked part-time for Sambo's restaurant (as a waiter), and went to school full-time. I attended class before work, co-anchored the noon news, took a class on my lunch hour, went back to work, then took evening classes. I worked at Sambo's on the graveyard shift on the weekends. I was able to complete my last three years of college in two years and one summer.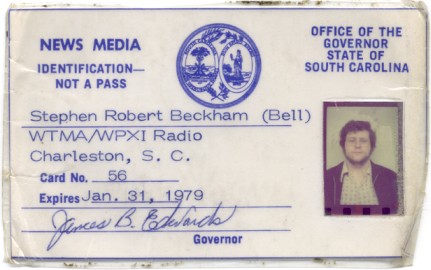 Steve's South Carolina Press Pass
When I graduated in May of 1978, I went to live with my parents in Montgomery, Alabama, working as a part-time disk-jockey for WCOV-AM/FM/TV. That fall, I started law school at the Ohio State University College of Law. I graduated in 1981, and began the practice of law in Buffalo, New York, at Phillips, Lytle, Hitchcock, Blaine & Huber.

Steve's MBS Credentials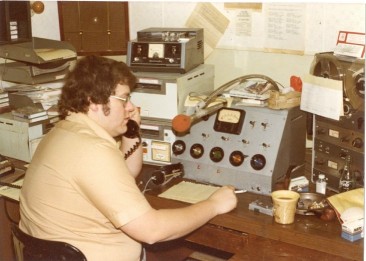 Steve in the WTMA Newsroom
I was married that fall to a Chattanoogan and, in February 1983 (after 1-1/2 summers), we moved to Atlanta where I practiced law with Kilpatrick & Cody (now Kilpatrick Townsend). In 1990, we moved to Chattanooga and I practiced with Weems & Beckham, then opened my own office, then practiced with Grant, Konvalinka & Harrison, P.C.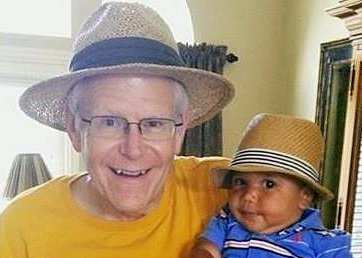 Steve Beckham today
On January 1, 2003, I left the private practice of law to serve as a Judicial Law Clerk for the Bankruptcy Appellate Panel for the Sixth Circuit which hears appeals from bankruptcy courts in Ohio. Western Tennessee, Western Michigan, and Eastern Kentucky, and may eventually hear appeals from other bankruptcy courts in Tennessee, Michigan, and Kentucky.
In 2003, I was assigned to Judge John C. Cook in Chattanooga, in 2004 I was assigned to Judge William S. Howard in Lexington, Kentucky, and, in 2005, I was assigned to Judge Mary Ann Whipple of Toledo, Ohio (telecommuting from Chattanooga). I then became a permanent law clerk to Judge Cook then, when he retired, for Judge Nicholas W. Whittenburg.
I have three children and, on July 20, 2006, I remarried. My children's names are Rob (born 1983), Betsy (born 1986), and Alison (born 1988). My wife's name is Connie (year of birth undisclosed). In 2013, after not having played in 40+ years, I began spending my spare time playing in a classic rock band.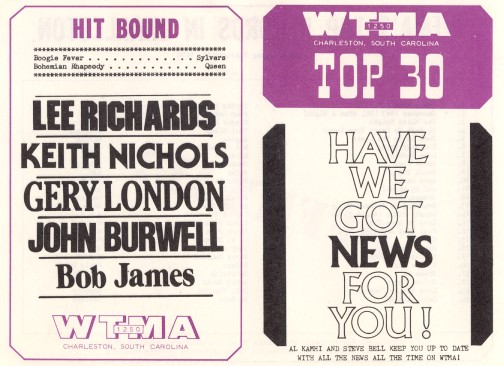 _________________________
Are you a former WTMA employee or listener with a story to share?
We'd love to hear from you! E-mail John Quincy.