Thanks to former WTMA DJ and Production Director John Burwell for these scans of actual WTMA 45s and an explanation of how WTMA's records were categorized and labeled in the Early and Mid 1970s.
Left label: Top - the time of the intro (before the vocal) in seconds; Middle - total time; Bottom - how the record ended.
Right label: Current rotation position letter (I do not remember what the # was about.)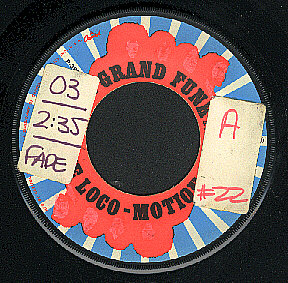 A = Hot rotation: Kirk Varner said they repeated every 90 minutes - I thought I remembered it being 2:15, but I could be wrong. It was the top 10.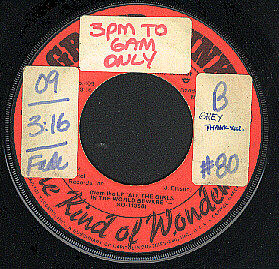 B= Medium rotation: Basically numbers 11-36. Note the time restriction on Grand Funk's "Some Kind of Wonderful (3pm to 6am). The word "grey" found underneath the letter B meant it was too "soul sounding" to play back-to-back with a soul record.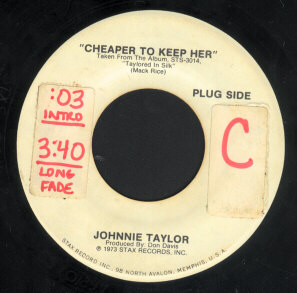 C = Recurrents: Songs no longer in the top 40, still too popular to quit playing. Note that the Johnnie Taylor record is a DJ copy - with a "plug side".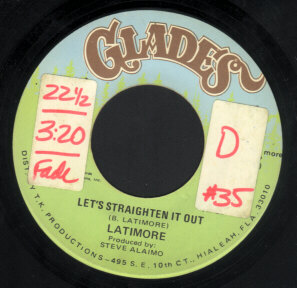 D = New stuff: One per hour - usually 4 new songs per week.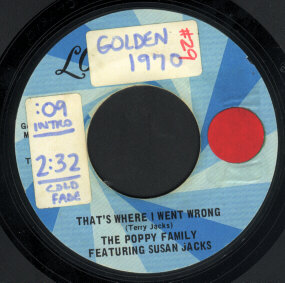 Thinking about recurrents; they, of course, were the ones we got the most tired of, because we played over and over them for months and months and months and...

Well, it seemed like it. Anyway, it made me remember a list we kept among ourselves - we called it Hell's Top Ten. They are the only songs played in Hades - and they are played over and over and over! Forever.

#1 on my list was "Seasons In The Sun" by Terry Jacks.
#2 was "You Light Up My Life" by Debby Boone.
#3 was "You Don't Bring Me Flowers" by Neil Diamond and Barbra Streisand.
Also in my top 10 was "Hotel California" by the Eagles.
I'll bet you have your own list.
Back to Control Room Q & A Page
_________________________
Are you a former WTMA employee or listener with a story to share?
We'd love to hear from you! E-mail John Quincy.