I really like your TMA History Piece. Could you include a "Where Are They Now" section to show young people what a career in radio did then and does now? (Great idea Jerry! -JQ)
For example, R.J. Kight (a.k.a. Jim Diamond) worked at WCSC with Harold Kramer, the engineer and I did not know that he (R.J.) was ex-TMA. Later Doug Randall Clements from Charleston Radio was working for Alex Seymour, the John Kerry of radio and Alex somehow failed to renew the health insurance he was charging to the employees. Doug had bypass surgery and later died from complications, some which had to be worry about paying for the fees.
Doug was a true gentleman with a couple thousand stories of radio in its glory days and rarely had anything bad to say about anyone. And that made him a rare breed of radio dog. I first met him at WQSN at 42 10th Street in the pre-Hugo building where slamming the front door was able to shake subsonically the entire building. I could be busy behind the transmitter and feel the building surge for about 20 cycles when C.J. Jones arrived each Monday for his morning show. (Same was true for skinny folks too, so don't go there.) Usually in those days C.J. was sleeping in the front office where he moved from his Thunderbird car in the parking lot after being named GM.
WQSN on the marsh was the home of Dr. A.J. Davis, later at the Big Ape and now here in Jacksonville at Light 96.1 and his first wife Kathy, who regularly wore a bikini to work on the all night show. What a trip getting in and out of there without a feeling that somewhere there was a beach just for her -- moonlight and all.
WQSN was also the home of the first solid state transmitter in the area. The late Barry Winton (I think everyone loved Barry), the owner of WQSN, was talked into leasing one by C.J. and we had it replace the old Raytheon 1945-vintage 250 watt night transmitter that was dragged out out back and placed on its side near the marsh. One morning after a late night maintenance schedule, I received a call from C.J. telling me that his girlfriend could not hear the station even a few miles from the transmitter. I asked him to read the transmitter meters and report back. He said things were normal. When I arrived from West Ashley a half hour later, I discovered that the on-board dummy load was still connected in place of the tower out back. C.J. had broadcast a good two hours and a half of his morning show to himself. I remember C.J. had to have all four of those old Gates Criterion Cart Decks working even though we only used three normally.
That was the hardest $400 a month contract I had going for me. But in those days, $400 a month was a good figure. Many folks still get about $400 a month some 30 years later and the risks and number of lawyers are about three times higher. Ah, but we do it because we want to get the MTV message out there to the P-farms everywhere.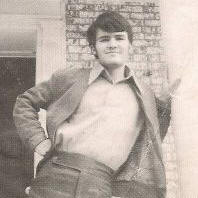 Jerry Smith in 1971
WQSN was the station that David Loyd turned into the most professional country station this side of Chicago in the late 60s. Dan Moon, R.J., and Charlie "Byrd" Lindsey even did some talk in the afternoon slot. With the traffic team and a great news team (Wayne Long), WQSN really gave TMA a run for a few of its 50 plus shares.
WQSN is where Randy Morris Scott really got his teeth knocked out one night. He was working for Val (last name Hendricks?) and early in the sun-coming up hours walked out the door to the sound of a man saying, "Hey Val!" Randy thought it was cool to be Val, so he replied, "Yeah man?" When he woke up he had a coke bottle in his face and his front teeth lying on the ground. He told me he got a call a few nights later from the same guy asking him why he told him he was Val. Seems Val had a love affair going with the guy's wife. Randy of course was that sort of guy and since his earthly departure in July 1982, 11 days after the airplane he was flying for WCSC 1390 went down, we have remembered his loving sense of humor among other stories that we could tell about the man with three different endings to every experience he either lived or imagined. Like the time he called me for the 23rd excuse for why he was late for his 9 a.m. slot on 102.5 FM in the summer of 1973. This time it seems his engine had fallen out of his 1959 Corvair right in his parent's driveway. This time I was going to end this barrage of baloney. So I got Bill Enloe to take over the slot and drove over to personally help him to work. Sure enough. There on the ground was this little 4 cylinder engine because the one last engine mount had given way. That topped the previous week when he had someone install a new fuel pump that failed to shut off, filling the parking lot full of not-so-cheap energy crisis fuel before we figured out where the gas smell and puddle out front of the O'Hear Avenue studio was coming from. Thank God we encouraged smokers to remain in the building at all times. Otherwise we could have experienced the first Middle Eastern Fuel Shortage terror attack.
Speaking of WKTM-WNCG and O'Hear Avenue, that is the site where Rod Bullard, the contract engineer was called one morning because the stations were both off the air. As he crossed the marsh bridge a few hundred feet from the station, he was thinking that the heavy rains might have again raised the water level above the tower's base insulator causing the station to go down. What he saw was the tower lying across the waterway and all of the tower lights working as normal except for the new horizontal position as the whole tower was resting in the mud banks spread-eagle across the creek. In that building over the years under the reins of a great radio team led by Mr. Ansley D. Cohen, we saw many strange, interesting, humorous, and tearful events unfold. It was there that I found out about the conflict of the ages. We took GOOD MUSIC off the air and replaced it with Rock and Roll.
To this day I cannot get forgiveness for that unknown, at the time, sin. If there is anything that I could go back and change, it would be the elimination of the marijuana-charged society of reality transitions that drugs and post-war trauma had on our society. From that station where an AM daytimer billed 35K a month (WTMA was doing 65K with AM and FM and 24 hours) playing Frank Sinatra, Perry Como, and the Big Band Sounds, I watched and contributed to the demise of our emotions, hearts, and minds as we replaced it with meaningless eastern religion and mindless repetitious subliminal messages: all you need is love, love can make you happy, do it till you are satisfied, and the hits keep on coming. But the personal stories of the people who walked through the doors of those radio stations will be remembered by all of us who refused to accept just any kind of job, against the best wishes of our parents in many cases, to strap on our headphones and become radio people.
We know the plight of the poor folks and NCW (Not Credit Worthy) label. We know the smell difference between old and new car, mobile home, and back of the bus. We know what it means to move across town or across the region for a job with fewer benefits than the Quickie-Mart. We know the joy and pain of a real blind date. We know the pain that Clinton feels for the poor because we are discovering in later years that we were poor and did not know it.
Ah, but we have our phone books filled with numbers and notations. We have our record collections or we know where we left them. We have our minds or we can tell by the songs on the oldies stations where we last remember leaving them. Most of all, we have our memories. And you can't take those away from us if they only show up during an e-mail or a photo on an Internet site from time to time.
Back after these commercial messages...

Jerry Smith
Broadcast Engineer and Consultant
Jacksonville, Florida
Here's an excerpt from a June 4, 2004 letter from
Jerry that might be of interest to our visitors:
...Several years later my two room storage shed at the Big Ape US 17 site was being cleaned by others as I was sleeping. They remarked upon questioning a few weeks after the affair as to the contents they were handling, "Dude, we hated to throw that stuff out like that but nobody told us what else we could do!" They spent a day and a night digging through those rooms that I had used from 1983-1994 for storage of my old TMA and other Charleston stations junk. In there were airchecks of WAPE and WTMA, quad tapes of the tryouts between Warren Peper and myself for weekend openings at Channel 5 in the Spring of '74, memos from John Rivers Sr. and Jr., Ansley Cohen, Bill Dudley, Buddy Barton, Kent Burkhart, and sales figures and ratings data since the 60s taken from the attic at TMA among other places now only a memory or apartment complex. The first couple of Big Ape costumes, numerous billboards and bumper stickers, ARB rating books for Charleston and Jacksonville, Hugo pictures, cards, letters, and gifts sent to us from all over the Southeast were among the discard items and the list could fill this page. (JQ replies: "This is so sad!"
Shortly thereafter in 1996, the Big Ape Country Club was bulldozed and in its place today, where once the Mighty 690 had lived for nearly 40 years, is a retirement care center for the elderly...the same folks from whom we stole the good music to send out the Rock and Roll. I did manage to salvage some twenty or more airchecks and we do have video and pictures of the APE and some of the Hugo stories and tapes. But with that clearing out went things that will never be seen again, unless God brings back stuff along with the ghosts and spirits of the dead on judgment and resurrection day.
Never fear however. Charles McHan and I rebuilt the old WAPE (WPDQ in 1989) for its new owners in 1994 adding a new transmitter building out back as we worked to restore its signal. We were paid well for our time and WOKV AM 690 (why Cox did not change the call letters to WAPE-AM, we will never know) is a solid number one with satellite-induced talk format and a five-person news operation that is second-to-none in rewriting the stories from the Florida Times Union 24 times a day. And 690, like other clone and re-clone formats, has the famous "AM must sound as bad as the other AMs" philosophy. After all, they are number one again!
______________________
Are you a former WTMA employee or listener with a story to share?
We'd love to hear from you! E-mail John Quincy.