Home | DJs | Features | Audio | Photos | WTMA | WOKE | Contact
Did you work on the air at WCSC Radio? Drop us a line. Please include your airname,
shift(s) worked, title (if any), time of WCSC employment, and what you did
before and after WCSC Radio, including what you're doing these days. Thanks!
A B C D E F G H I J K L M N O P Q R S T U V W X Y Z
Terry Allen [Real name: Terrell Leff] Weekend/vacation relief DJ. Previously worked at WTMA, WKTM and WQSN. Later worked at WXTC and WSSX. Now retired from a tourism career and living in Charleston.
Scott Ashley [Real name: Gerry Cunningham] Came to WCSC from nights at WTMA where he used the airname Robert E. Lee. Originally from Kentucky where he worked at WVLK and WKLO. Left WCSC to go to KITE in San Antonio. Later worked at Charleston's WKQB and WKTM as well as Z100 in Charlotte in the early 80s as Panama Jack. Today he's a Web positioning consultant based out of California.
Chris Bailey [Real name: Donald McTyre] DJ. Chris writes on December 8, 2008 to say, "I live in Virginia Beach, and for the last 14 years I've owned and operated three cosmetic surgery clinics: Virginia Beach, Richmond and Washington D.C."
Gary Baize DJ in the 1970s. Robert Braddock reports: "Gary Baize left WCSC for 15Q (WQSN). After that he was in a band for a few years before returning to radio at Q107 in St. George. He moved to WCBD-TV 2 as a news videographer for a number years. Gary passed away in 2006."
Tom Bootle Did middays for a short period around 1979-80. Also worked for WKDA and WKDF in Nashville. Deceased (2006).
Buzz Bowman [Real name: Ronald Bowman] Morning DJ, sometimes in tandem with CJ Jones or Booby Nash. Worked in radio last as Program Director/PM Drive at Cumulus Broadcasting's 102.1 The Fox in Florence, SC.
Jim Bradley [Real name: Jim Kuhns] Late evening and overnight jock 1978-1981
Jim writes on November 19, 2008:
I came to 'CSC from evenings at WFLI and Q102 in Chattanooga (I grew up in Cleveland, TN and Latrobe, PA) to do late evenings and overnights from 1978-81 working with CJ, Buzz, Randy, Bob, Booby, JJ, Madeleine, Terry, Chris and others. It was an amazing time to be in radio in Charleston. The competition was fierce and we worked and partied hard. The impromptu "rooftop parties" were legendary.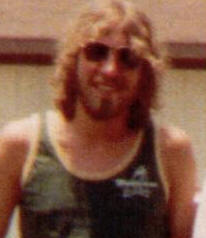 Jim Bradley (1980)
One of my jobs as the overnight jock was to go downstairs at 5:15 and wake up Buzz, who slept on the couch in the lobby at 485 East Bay Street, so he could go into the men's locker room, shower and get ready to do his show at 6.

After leaving WCSC I went to work for Storer Cable in Charleston. Staying in the cable industry, I made moves to Atlanta, Charlotte and finally Detroit working for operators Comcast and Continental. In 1998 I moved to the vendor side of the broadband industry managing field engineering and trade shows worldwide while working for Terayon. After a brief stint as Senior VP and CTO of a small cable operator, I moved to BigBand Networks.
Along the way I also found time to serve six years on the board of directors of the Society of Cable Telecommunications Engineers (SCTE), including two years as vice-chairman and two years as chairman. In 2002 I had the honor of becoming only their eighth Fellow and being inducted into their Hall of Fame. I remain active in the Society even today.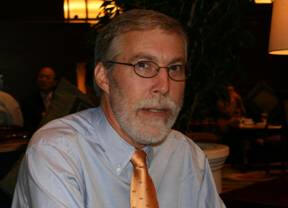 Jim Kuhns (2008)
Currently I'm working as a Senior Project Manager for BigBand, and although still Detroit-based, I'm living in Seoul, Korea overseeing switched digital and IP video deployments in Asia. When not in Korea I divide my time between corporate headquarters in Redwood City, CA, manufacturing in Westborough, MA, R&D in Tel Aviv, Israel, and kids and grandkids in California and Michigan.

Unfortunately, since leaving Charleston in 1985, I've only been back once and have long since lost touch with everyone there. The site's great and brings back a lot of great memories. Rock on!
January 2, 2017 update:
I did some weekend vacation relief work for 96rock in the mid 80s when I was in Atlanta and the same for WLLZ in the late 80s/early 90s after I moved to Detroit but haven't been in front of a mic since then. Currently living and working in Melbourne, Australia for the last several years as an HFC OSP engineer/SME for the NBN, the Aussie government's nationwide high speed data initiative.
John Burwell Midday DJ in the first half of 1981. Previously worked as DJ/Production Director at WTMA. Left WCSC to go to seminary and enter full-time ministry. John is currently the head minister of Orangeburg's Church of the Redeemer.
Ted Byrne DJ, play-by-play. Now working for Kirkman Broadcasting in Charleston.
Herb Carson Morning DJ in the mid-1970s. Do you know where he is today?
Bob Casey [Real name: Robert Owens] Program Director, DJ. Still lives in Charleston.
Debi Chard Joined WCSC radio's news department in 1976. Now Managing Editor and a news anchor at WCSC-TV.
Debi writes on January 29, 2008:
I came to WCSC radio as news director in April of 1976 and started splitting my time between radio and TV shortly after. I can't remember when I moved full time into TV, but I believe it was around '78 or '79. I started doing news when Mike Hiott was the morning disc jockey, and I would often swap stories with Aussie Geer who was working in radio in Spartanburg. She and her husband, David, now live in the Charleston area.
Before CSC, I worked in Columbia at WCOS as reporter, then news director for a couple of years. I worked in Columbia while my husband was in law school. Before that, I worked as a student at WSUI in Iowa City, Iowa, so I had done radio news before hitting the airwaves in SC.
Venyke Cleveland Newsperson around 1980. Later worked as Andee Cleveland doing news at WTMA. She also worked in radio and TV in Spartanburg, SC, her hometown. Now lives in Cincinnati, where she's employed in HR by the Cincinnati city government.
Janet Conklin (Now Janet Walsh) Morning traffic reporter in the mid-80s. Also served as WCSC's Continuity Director. Later part of the morning shows at WXTC, WEZL, WXLY, WIWF and WIWK. Now working for Charleston's Kirkman Broadcasting.
Ken Crook DJ circa 1970.
Ken Crook writes on April 2, 2013:
I moved from Charleston to WBML in Macon, Georgia after doing a stint at WWWZ as PD and morning guy. Then I headed to Saginaw to program WKNX, an AM contemporary station that had fallen on hard times. Following the advice of Charlie Van Dyke who was consulting the station, I started to use the air name "Ken Morgan", which I still use to this day. Then, it was off to Detroit to program WDEE AM, a country outlet.
After leaving the motor city, I came back down to Charleston for about a year and did mornings at WKTM. Then I got the call to go to Cleveland to do mornings and stayed there for over 17 years, working at three different stations and doing TV work. Finally, the snow got to me and I moved to Phoenix, Arizona, where I now live and do a morning show on a money/business news radio station.

By the way, what a great website you've put together and itís great to read about all the alumni.
Charlie Davis Newsman (and eventually news director) in the early and mid-80s. Tennessee native who previously was on the air in Knoxville and Chattanooga. Later worked for WFLA-FM and in the Charlotte, North Carolina market. Do you know where he is today?
Brother Dave Derek [Real name: Dave Vasser] DJ, Music Director and Program Director 1975-1977. Previously worked at WTMA as just "Brother Dave."
Dave writes on January 9, 2008:
I quit WTMA and went to WCSC as music director as the station was coming off the Drake Chenault Hit Parade automation format in 1975. At that time WCSC had Mike Hiott doing mornings. After mornings on WCSC he went downstairs and did the "Scene at One" on Channel 5 and then did the evening weather and came back again to do the night weather at 11, so Mike had enough to do without radio.

I did afternoons on WCSC as Brother Dave Derek. Kent Burkhart was hired as a consultant and we went full blown Top-40 live 24 hours a day. When Burkhart was signed up, Mike Hiott moved to the TV side exclusively and they made me PD. I didn't ask for it and didn't expect it. I left WCSC in 1977 and went to WQSN instead of taking a job offer from KIOA in Des Moines. I didn't want to move again and figured I could get a better job in Charleston eventually or move to Charlotte which I did where I worked at Z-100 FM, WROQ-FM and then did 14 straight years at Magic 96.1 which turned out to be a great job for me.

At WCSC shortly after I was hired by Tony Warren, Gloria Wilson took over as GM of both the AM and FM. Tony came from WKIX in Raleigh and I think he went back to Raleigh. I don't know why he left and I've never heard from him again. One day he was just gone. Gloria Wilson was a real neat lady...first class in every regard. Tony wasn't there long enough to get to know really well but he had some great ideas that never came to be.

After I got to be PD I hired Buzz Bowman out of Harrisburg, PA, plus locals Gary Baize, Dave Turner and Herb Carson. A guy named Bob Casey was hired upon "strong recommendation" from Kent Burkhart who came from Nashville to do middays and wound up replacing me as PD. I think the company found my free spirit attitude not to their liking. But I gotta be me! And back then I was very immature and saw myself as a rock and roll animal. I was in my early 20s.

Monty Jett was the production director at that time but didnít do an airshift. Sales people I can recall right off the top of my head were Hugh Jett (Monty's brother), Pam Darlington and Jenny King. John Dozier did the news.

I do remember that right after the 6 o'clock news wrapped up there was usually a few TV technical people and sometimes some radio people on the roof of the building having an "after-party." John Rivers, Sr. was still alive then but John Rivers, Jr. was running the AM-FM and TV. I remember that Junior bought a new Ferrari while I was there. He didn't keep it long as I recall. Dang, that was a beautiful car.
I'm now Assistant Director/Training Officer at the Stanly County, North Carolina E-911 Communications Department. I also play bass and sing in Kollection Band, which is a Beach/Classic Rock band based in Albemarle, NC.
Richard Dey [Real Name: Richard Reep] Worked weekends at WCSC radio in early '66 and recorded the WCSC-TV Sunday weather. After leaving Charleston, where he was stationed at the Air Force Base, he was sent to Thailand as an information specialist with Armed Forces Radio. When he got out of the service, he worked for KSOP, Salt Lake City; KRAM, Las Vegas; and KLAC, Los Angeles (weekends). Received his bachelor degree in communications from Southern Utah University in 1988 and his masters from Azusa Pacific University in 1990. Taught school for nine years and now owns a fire protection firm in Las Vegas and one in Utah. Currently living in St. George, Utah.
John Dozier News Director in 1974 and 1975. Was also News Director at WTMA in the late '70s. He is retired, after managing several public radio stations and being a university professor and department head. He lives in Columbia, South Carolina where he imports fine walnut for gunstocks and restores old French shotguns.
Bill Gray Overnight DJ in the late '70s. Later worked at WWWZ, Charleston's Storer (now Comcast) Cable, Blackbaud and Whole Foods. Now retired in Columbia, SC
Harrigan Hart [Real Name: Harry Gindhart] 7-midnight DJ June 1971 to October 1973. Did the "Underground Charleston" show, the first to play all album cuts in Charleston. Before coming to WCSC he worked at WSBF-FM, Clemson; KSBK, Naha Okinawa; and WWMC-FM, Moncks Corner. After WCSC he did on-air gigs at WINH AM/FM, Georgetown; WBML, Macon; WGMB-FM, Myrtle Beach; WDXY, Sumter; WGCA, Charleston; and WTMA, Charleston. He also worked brief periods at WWWZ, Summerville, and at Charleston stations WQSN, WNCG, WFXR and WXLY-FM. Following radio he had a 20-year career in the construction business, with his last position as President of Dolphin Building Systems, a division of Dolphin Architects/Builders in Charleston. Presently a United Methodist Minister in Indian Land, SC (BS from Charleston Southern University 1973; Master of Divinity from Emory University Atlanta 2006). Other airnames included Harrigan, Ron Gindy, and Steve Harrigan.
Herbie [Real name: Stephen Whitlock] Weekend DJ.
Stephen writes on June 22, 2009:
I did weekend part time on air work at WCSC in 1977-78 under the name of Herbie. It was a major thrill to be an AM radio DJ while a senior at Middleton High School. "1390 CSC" -- that tag HAD to be the first words out of your mouth every break between songs. The good old Burkhart/Abrams format. And how they ran the turntables 2% fast to give the tunes a little more "upbeat" sound. Jeez.
I went on to do full time on air work at WWWZ, WTWF (Moncks Corner), and later WQSN.
On being let go from WQSN, I found my best calling was in electronics engineering and left the business in 1980.
I worked as a technician and engineer for different cable TV companies around the country for 15 years, a 5 year engineering stint with MCI, a year with Cisco Systems, and am now employed supporting a new USCG emergency radio communications network in Charleston.
Bob Nash was one of my inspirations to get into radio when I met him at a remote WTMA was doing at the Tri State Store on Meeting Street Extension back in the early '70s.
The other huge influence on my radio career was Bill Grey (mid-6 at WCSC in the late '70s; and later 7-mid at 3WZ). He was a roommate of Randy Scott when Randy was still DJ-ing 7-mid at CSC.) Through working with Bill at 3WZ, I met Randy, and flew out of the Johns Island airport MANY a time with him doing his reports. Shocked as I was by his death, I was not surprised. (May he rest in peace.) I saw how he did his pre-flight check as he was going down the runway.

I recall spending WAY too many hours with Jerry Smith doing engineering work. Jerry took me along to do some overnight work at a Cinderella station in Orangeburg. At the station, we played a game called, "Name that Cue Burn". Jerry said he could name that tune JUST with the cue up. He was 100% correct in maybe 20 times; except when I cued up the B side of a 45. (The B side was also popular, but not a Top 40 hit.) Dang, he was good.

John, thank you for giving me the opportunity to stroll through memory lane. I do miss the OLD radio days. That was a fun time in the industry. And yes, most everything you heard about 3WZ was true. We were all a full bubble off level out there on the Rock n Roll Farm.
Mike Hiott Morning DJ in the 1970s. Had a long career at WCSC-TV hosting the "Midday" show and doing weather. Worked for a short time at WCIV-TV after leaving Channel 5. Now retired in Colleton County, South Carolina.

Harve Jacobs News Director 1979-1987. Born in Brooklyn, New York. Left WCSC Radio to be a news reporter at Charleston's WCBD-TV. Later worked in the North Charleston mayor's office. Currently is a reporter for WCSC-TV.
Jay Jay Jaxon [Real name: Jay Andino] DJ. Also worked at WKTM and WKQB, along with stations in the Columbia, SC and Jacksonville, FL markets. Deceased.
Published in The State on August 21, 2010

COLUMBIA - A visitation with family and friends of Jason Bond "Jay" Andino will be held 3-5 p.m. Sunday, August 22, 2010, at Dunbar Funeral Home, Devine Street Chapel. Following his wishes to be cremated, a memorial service will be held at a later date.
Mr. Andino died August 15, 2010. Born August 4, 1952, in Miami, he was a son of the late Jose and Margarita Navarro Andino. Jay grew up in Miami and graduated from Miami Lakes Technical College with a degree in Broadcasting. He worked in various radio markets including Charleston, S.C., and Jacksonville, Fla., before coming to Columbia.

Jay spent over 25 years in the Columbia area in the broadcasting industry, including working as a radio personality known as "Jay Jay Jaxon." In 2003 he opened his own production company, providing voice-over talent for radio and television stations nationwide. Jay loved life and especially his children. He was an avid golfer and loved music, travel and the Gamecocks.

Surviving are his daughter, Lauren Ashley Andino of Brooklyn, N.Y., son, Michael Chase Andino of Charleston, S.C., their mother, Marci Barker Andino of Columbia, and long-time family friend, David Sage of Charleston.

In lieu of flowers, memorials may be made to the American Diabetes Association , 2711 Middleburg Drive, Suite 205 - Kittrell Center, Columbia, SC 29204 or the American Heart Association , 520 Gervais St., Suite 300, Columbia, SC 29201.
Monty Jett Production Director and Midday Jock in the mid 1970s. Currently doing mornings for Alpha Media's The Island in Hilton Head, South Carolina.
CJ Jones [Real name: Conrad Jerome Jones, Jr.] Executive VP/GM and Air Personality Late 1978-1982. Died January 29, 2019 at the age of 76.
CJ writes on January 8, 2008:
During my years as Executive Vice President and General Manager of WCSC and WXTC we delivered spectacular radio for the market. With a great team we created legendary radio. Such great talent as Program Director Bob Casey, Madeleine (Disco forever!), the fabulous "Booby" Nash, John Burwell, Chris Bailey, Terry Allen, Steve Russell and "CJ & Buzz" all worked together to create the most listened to radio station in the region for years.
When I arrived to take over the management of the station it was rated #7 in the Arbitron ratings, within three months WCSC was #1 and growing hourly. The Rivers family allowed me to spend their money and create a great team, improve the signal, promote with big cash contests, launch "Skywatch Traffic" first with Sgt. Darrell Sanders and later with my great friend Randy Scott. Gus Bailey was Vice President and General Manager of WCSC-TV and he and I become great friends and we were allowed to promote WCSC RADIO on CHANNEL 5 all the time. It drove our competitors at the other radio stations in the market nuts. It was all great fun.

Who can forget WCSC INSTANT MOBILE NEWS with Patrick Joyce, L.J. Lancer, Harve Jacobs and Don Morgan?

Not only did we create a fun radio station we sold a lot of advertising on it. I brought Howard Keller in as General Sales Manager and he built a great sales organization.

I could go on and on because this radio station was special. Thanks for making the memories real on this new site. This is a great historical site for Charleston and the Low Country.
Pat Joyce News, sports, traffic in the 1980s. Deceased.
Published in The Post & Courier on June 1, 2011
ASHEBORO, NC - Edward Patrick Joyce, age 75, of 156 E. Academy St., Apt. 113, Asheboro died Monday, May 30, 2011 at Randolph Hospital in Asheboro. A memorial service will be held on Thursday, June 2, 2011 at 6:00 PM at the Pugh Funeral Home Chapel, 437 Sunset Avenue, Asheboro with Rev. Warren Lee Domenick, Jr. officiating. Pat was born in Washington, DC, reared in Berryville, VA, and graduated from the Richmond Professional Institute of the College of William and Mary. A life long Washington Redskin and Senator Fan, he was a journalist and radio broadcaster. He worked at the Richmond Times Dispatch, was Sports Information Director at Virginia Military Institute (VMI), was a Sports Writer with the Charleston Post and Courier, and was a long time radio broadcaster in the Charleston, SC area. He is survived by his daughters, Ayn-Martha Joyce of Jesup, GA, Julia Domenick of Jesup, GA; son, Mark Joyce of Asheboro, NC; the mother of his children, Faith Joyce of Jesup, GA; grandchildren, Collin Joyce of Asheboro, NC, Hannah Joyce of Asheboro, NC, and Taylor Domenick of Jesup, GA. The family will receive friends following the memorial service at Pugh Funeral Home. Memorials may be made to St. Christopher Camp and Conference Center, Attention: Annual Fund, 2810 Seabrook Island Road, Johns Island, SC 29455-6219. Pat was a great dad and was always there for his kids. We miss him. Pop would never say goodbye, and with love and in tribute to him, his obituary closes with his famous tagline "... And that's the way the ball bounces."
Ted Kelly [Real name: Theodore Kypris] Midday and evening DJ between 1977 and 1978. Came to WCSC from WTOC in Savannah. Left to go to WAYS in Charlotte. Later went to work in Miami, Pittsburgh, Dallas, Seattle and Las Vegas. He currently owns a production company (TK Productions) in Miami.
Robert J. Kight WCSC announcer from February 1972 to December 1973 and again from June 1974 to approximately June 1975, when he transferred to the WCSC-TV Production Department where he worked until June 1977. Previously worked at WTMA as Jim Diamond and at WQSN as RJ the DJ. Still lives in the Charleston area. More about Robert J. Kight
Bob Kight writes on December 22, 2008:
Glad you were able to use the "colorized" version of Jim Vann and Buzz Bowman on the TV set. From what I remember, the set that they were using was the same set that Stacie and Charlie Hall used each weekday afternoon. (That's how I know that the cushions in the chairs were red.) From about early August of 1976 until early June of 1977, every Tuesday after Stacie and Charlie's Show, we'd strike the set and I'd get my "Super Guy" outfit on and the cameras would be trucked into Studio A where the set was and we'd put another show in the can for the upcoming Saturday.
Seeing the photos on the WCSC Radio pages brings back a few memories too. For example: seeing the Labor Day 1976 photo with Sally Graham reminds me of the time when I was working a sign-on shift at Channel 5 as a switcher. It seems that Channel 5 had just started to transfer their billing accounts via computer line to a server in Memphis and Sally had been keying them in, one line at a time on a dedicated program. Apparently, she had to fill a RAM buffer with so much information before she could transfer it via Telco line to the main server in Tennessee. Unfortunately, after working for about 5 or 6 hours, SCE&G had a power bump and the system reset itself and Sally finally realized that EVERYTHING WAS GONE. She came down to the TV area, almost in tears, and relayed her story. But it seems that by Monday, one of the engineers put in some kind of a battery backup system to keep that from happening again.
Seeing those photos in the WCSC-FM area also brings back a lot of warm and positive feelings too. According to Rod Bullard himself, he is responsible for coming up with the new WCSC-FM call letters: WXTC. He told the powers-to-be that the music sounds like ECSTASY, hence the call letters: X T C. Cute. Plus -- seeing the photo of Robert Braddock changing tape. Don't know if you know about the "background music service" that WCSC had back then too. It was called M-I-A -- which stood for Music IN the Air. Those two reels were in the same photo on the extreme left side of where Braddock was working. The tapes ran at 3 3/4 ips and when one ran out the other took over and at the same time, a small alarm sounded. So whoever was responsible for changing the tapes had quite a while to do the job since each tape ran for several hours.
Seeing the photo with "Captain Madness" and Schaffer automation system reminds me of all the times when it was my job to "feed the monkey" -- put in updated weather information and new commercial carts, etc. Plus seeing the Captain on the air; that particular control board had a bad reputation for "eating" indicator lights.
The original WCSC-AM control room was located centrally and had an RCA control board. (Wish I had taken a photo of it back then.) Eventually -- I believe that Jim Whitaker pushed to get a new control board and the control room was moved to another area -- that's where the Dave "Captain Madness" Turner on the air (1976) photo shows. Then the old production area -- which was where the Schaffer system was put -- was moved to the old control room area. All this then gave the sales department a new area for their staff and desks.
Seeing the Dave "Captain Madness" Turner on the air (1976) photo reminds me of a two things in the shot. One: the program binder for that day and the other binders for the rest of the week that I wrote on it using a regular ink pen with the "SUN" on it. And the "tape" repair segment on the front of the control board; that area seemed to be used the most by the guys and so it cracked open first and I put a few strips of electrical tape on it.
That room was a little bigger than a broom closet. If you notice in the shot I gave you of Mike Hiott and Monty Jett, that was in the same room but with a glass window behind them. I guess the new guys put something over the window for privacy or sound?
L.J. Lancer [Real Name: Irvin Nathan] Deceased.
Dave Lubeski writes on June 5, 2010:
My name is Dave Lubeski. I worked at the Associated Press for 35 years, the last 28 as sports director of the radio network. I am now the Sports Information Director at The George Washington University in Washington, D.C.
LJ Lancer was my best friend. He passed away October 1, 1995 in Pomona, California.

I first met him in 1974 at the AP. We both were hired as original employees of the AP's radio network that went on the air October 1, 1974.

Bob Benson, LJ's old boss at KOIL in Des Moines, was our boss at the AP.

I know that before he came to the AP, he had worked as a record producer and promoter and worked at several radio stations, I believe in Detroit and Cleveland.

After a few years at the AP, LJ got a promotion and went to New York and worked at AP headquarters. He left the AP to manage a station in Appleton, Wisconsin. He also worked in sales for UPI and AFP. He moved to Hawaii and worked in publishing, before returning to the mainland working in sales in California.

He fought cancer successfully several times. His first bout with the disease was in about 1992. I visited him in California right after he learned his latest bout with cancer was terminal. It was the summer of the O.J. Simpson trial, which is how I remember the time frame.

With his sister's blessing, I wrote his obit for Broadcasting magazine.
Jack Lundy [Real Name: John Meehan] DJ. Also worked at WTMA. Reported to be doing radio in Cleveland, Ohio in the early '80s. Do you know where he is today?
Madeleine [Last name Lanoue then, now Thomas] DJ in the late '70s and early '80s
Madeleine writes on November 24, 2008:
I came to WCSC radio by way of Brunswick, Georgia in January 1979. Jay Jay Jaxon told me about an opening at WCSC, where he was working. We both were products of WLRN in Miami, a public radio station that gave eager broadcasting students the chance to be a star. Little did I know that the move to Charleston from my first 'gig' at WGIG/WSBI in Brunswick would have me playing DISCO! Back then as an AOR DJ I, along with many at the time, thought that "disco sucked". It was a week before my move when Program Director Bob Casey said the format for the soon-to-be-mine nighttime shift changed to disco. What could I do? My bags were packed, so I decided to give it a try.

For almost 3 years I worked with some great people and wonderful friends. My best friend, Cindy Smith (WHERE ARE YOU???); Harve Jacobs, a top-notch news reporter and shoulder to cry on; the best engineer ever, Bruce Roberts; Buzz Bowman, famous for fun like the Big Buzz Bash on Folly; Randy Scott (we'll always miss you) and crazy Edd Salen, who taught me how to splice tape the right way (but who cares today?). Jim Bradley could get me to laugh on the air when I didn't want to. The best PD I ever had, Bob Casey, put up with a lot of my antics. There was Ron O'Brien (real name Gregory Dale Pittman) who had no choice but to have that air name because that was the only one left after Chris Bailey (a.k.a. Don McTyre) chose his name. You see, CJ Jones had some jingles already made with those names so whoever got hired next had virtually no choice as to what they'd be called on the air.

Well, disco was good to me. I had a lot of fun, but it ended when CJ decided to let a bunch of us go: Patrick Joyce, someone else whose name I can't remember, and myself were gone because of the infamous 'budget cut'.

Well thank you CJ, that's exactly what I needed to finally make the move on to Atlanta (WLTA, WARM 100), and Charlotte (WLVV) and -- what do you know -- back to Charleston in 1985 to 96 WAVE for two years. Then came Honolulu (KQMQ) and again --back to Charleston -- working for CJ and Bob Casey at WWHT.
I also did some weekend weather at WCBD-TV. I moved on to WDXZ and then found a home at WTMA for 14.5 years (PD, Producer, News Anchor). While there I also found the time to produce a syndicated show heard on public radio stations around the country and the Armed Forces Radio Network called The Parent's Journal with Bobbi Conner which I still do to this day. Along with that, my husband and I have a company called All-Mist which provides much-needed outdoor cooling for the Charleston summer heat.
God is good. He has blessed us, and the kids are all doing well.
This article appeared in the Charleston Post & Courier Saturday, February 16, 1980
Music Is A Favorite For WCSC's Madeleine
By Anne Barnes, Entertainment Editor
Recognition is important to WCSC-AM Radio's Madeleine, but sometimes the lady "wants to be alone."

Thus the instance on a first name-only identity.

Explaining that radio personalities are harassed at home by the public -- both fans and foes -- she says, "My private life is separate from my radio life. It's nice to be recognized, but sometimes I want to be alone. I enjoy my privacy."

A native of Montreal, Canada, the 20 year old spent most of her childhood in New York City and later moved to Florida. "About age 15, my ears turned to radio," she says. "But I wasn't listening to the music; I was paying attention to the announcers. I never thought I'd be able to be one, though."

After high school, she took a one-year course in radio broadcasting at Miami Lakes Technical Education Center. "In addition to the books and courses, we learned by doing," she says. "We were on the air two hours a day on public radio. 'The Learning Experience' was the names of the show."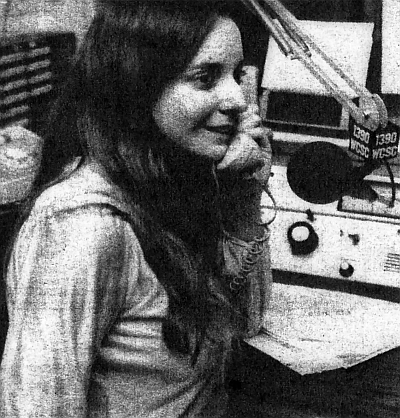 Becoming an American citizen in 1978 -- a necessity for obtaining a third-class Federal Communications Commission license -- Madeleine got her first job in Brunswick, Ga.

At WCSC for a little more than a year, her show has changed from strictly disco to a Top 40 format, combining disco, rock 'n' roll and soul.

"My radio personality is similar to my own," she says in a husky voice. "It's positive and happy -- up. I think I bring that across on the air."

"On thing I learned at broadcast school was to smile," she says. "Even if people can't see you, if you smile it comes across."

Listeners meeting the brunette at a remote broadcast think she ought to be a blonde. "My voice sounds very sexy," she says, "and people just associate that with blondes."

Madeleine has the air chair from 6-10 p.m. weekdays and 1-6 p.m. Sundays. In addition to on-the-air duties, she's the station's public and service director.

Swimmy and sailing are favorite pastimes -- weather permitting. She also enjoys photography and considered that as a possible career. "But photography wasn't as exciting as radio appeared to me," she says.

She'd like someday to move to a larger market. "Maybe New York," she says, "because I grew up there. And New York is the No. 1 market."
Patty Meeks Traffic reporter in the early 1980s. Now lives in Conway, South Carolina where she works for the US Post Office.
Don Morgan [Real name: Don Hanzlik] News Director of WCSC-AM 1979-1981. Also worked as a DJ at WTMA in 1976.
Don writes on January 8, 2008:
What a great group of people we had in the News Department -- from the anchors to the street and sports correspondents and ground and air-based traffic reporters. I am truly proud to say I was part of the team that continually scooped others in the market on breaking news and weather developments; Harve Jacobs, Cindy Smith, Pat Joyce and Randy Scott are just a few of the names.

Others in the business are amazed when they hear the story of how the entire news department, and a few others, spent two days in the "bomb shelter" at the transmitter site in 1979 during Hurricane David, doing phoners with the likes of the mayor of Hardeeville just as the eye was passing by that town. We were fortunate to remain on the air the entire time, hopefully serving the public interest as radio stations were expected to do "back in the day."

WCSC was one of the first affiliates of the RKO Radio Networks (later United Stations and UNISTAR before folding in 1994) and I was fortunate enough to have been recruited by them to go to New York as Overnight/Foreign Desk Editor, and eventually serving as a dayside Editor and Producer of Special Events, including coverage of the 1986 Statue of Liberty 100th Birthday Celebration, and the 1984 and 1988 Democratic National Conventions.

In 1990 UNISTAR moved the entire news division to Washington, DC, and upon accepting the transfer offer I was named Senior Producer, responsible for coordinating hourly newsroom operations among anchors, desk editors and tape producers.

Three years later Infinity took over operations of UNISTAR and eventually sold it to Westwood One in 1994. Shortly afterwards Westwood One shut down UNISTAR, putting a couple dozen class anchors, reporters and support personnel on the street.

I eventually decided to move back into local radio, taking over as Operations Director of WBZS-AM, a business and financial news/talk format, in Alexandria, VA. Unfortunately, less than a year later, Douglas Broadcasting sold the station to Spanish broadcaster Mega Communications.

It was then on to the Washington, DC Bureau of Metro Networks where I served as Senior News Editor for seven years until August 2006. Just days before Metro's parent company, Westwood One -- there's that name again -- cut hundreds of jobs across the country, I resigned my position to become the Operations Manager (and later General Manager) of WDMV-AM, another business and financial news/talk format, serving metropolitan Washington, DC. I continue in that position to this day.

Judi, my wife of almost 33 years, and I are looking forward to moving into semi-retirement near Hilton Head in two or three years. Anyone in that area looking for a well-seasoned (low in sodium) media manager can drop me a line anytime, perhaps advancing our relocations plans!
Don writes on April 29, 2013:
In 2011 we abandoned plans to retire at Hilton Head choosing instead Florida's Gulf Coast so we can spend more time on our boat. We are now in Palmetto where Tampa Bay meets the Manatee River and Gulf of Mexico. Coincidentally, the city was so-named in 1868 by Samuel Sparks Lamb, who is called the "Father of Palmetto", saying it reminded him of his home state, South Carolina).

While making the 14-hundred mile trip from northern Virginia to Florida aboard All Hanz On Deck we had the opportunity to meet up with C.J. Jones and John Magliola at Hilton Head.
Booby Nash [Real name: Robert Nash] DJ during the first half of the '80s, usually in morning or afternoon drive. Also worked at WTMA and WKTM. After leaving WCSC in 1986 he became a full-time minister at a James Island church. Died January 18, 2017 at the age of 77 after a brief illness.
Ron O'Brien [Real name: Gregory Pittman] DJ who made the transition to FM when WXTC switched from Beautiful Music to Lite Rock in 1985. Left WXTC to go to a station in Hilton Head. Later worked in Raleigh, NC. As of September 2014 he was a Production Manager for the Country Music Association in Nashville.
John Reynolds [Real name: John Salter] Nighttime board-op/DJ in the mid-to-late '80s. Lives in Batesburg, SC.
Hugh Roberts [Real name: Robert Hubert] News. Today he's a music host for Public Broadcasting Atlanta.
Steve Russell DJ. Also worked at WTMA, WKTM, WXTC, WSUY and WIWF. Had a successful production/voiceover company. Now owns a mobile DJ/karaoke company.
Edd Salen DJ/Production Director circa 1980.
Edd writes on May 10, 2010:
God, I don't remember dates. I pulled a short airshift, and was in charge of production back in the CJ and Buzz days. I remember doing the airplane traffic reports for a few months. I was replaced by Randy Scott, who as we all remember, actually flew the plane. I was just a passenger with a microphone and air sickness.
Left town for a short time (for Texas and Virginia) but I'm still on the radio and TV here in Charleston. If you fall in love with the Low Country you can never leave if permanently. Production, aha...that's the ticket.
Most who remember me remember the WKTM days. I was the voice of Gerald's Recaps (...saves dollars and that makes cents). Sang the old "Steppin into the Windjammer" jingle, and the "KTM is who's got cha now" jingle. Did the Rob and Edd Radio Network for four years for 98 Rock in the '90s, and tried to revive it in the 2000s on the "Bridge". W R O N G.
Anyway -- I've been sworn to secrecy and am not allowed to reveal my many stories of the good old days. I know Mr. Moose and Uncle Booby are happy for that.
Randy Scott [Real name: Randall Morris; later legally changed his name to Randy Scott] DJ, MD and news/traffic reporter/pilot. Died in in an airplane crash while taking off to do morning traffic reports for WCSC radio in the early 1980s. Also worked at WTMA and WKTM.
Bill Shoemaker Board-op, production and announcing between 1980 and 1996. Later worked at Charleston's WTMA/WSUY (1996-1999) and WHLM in in Bloomsburg, PA (2004-2009). Now lives on Johns Island.
Cindy Smith News. Do you know where she is today?
Bob Smith WCSC-TV newsman between 1962 and 1979, who also did a Sunday morning call-in talk show on WCSC Radio. Left WCSC for WCYB in Bristol, Virginia, where he retired in 1991. Died April 18, 2009.
Robert St. John [Real name: Robert Wermuth] Midday and PM Drive DJ 1976-77.
Robert writes on January 6, 2009:
I came to 1390-WCSC in very late May, 1976. Gloria Wilson was GM of the radio side of the business. I had recently sat in on an "interview" that Charlie "Jay" (Jones) had had with Gloria, but he decided not to pursue. Charlie (of long time Columbia, SC fame) and I were at WDXY in Sumter, SC at the time.

My long and meandering radio "river" of stations began in 1972 at Auburn University's campus station WEGL-FM, then the local Auburn station, WAUD; on to WDOL, Athens, GA, WTBC, Tuscaloosa (News Director), WBSR, Pensacola (News Director), WABB AM & FM, Mobile (DJ), WKSJ-FM, Mobile (DJ), WDXY, Sumter (DJ), 1390-WCSC ("Robert St. John" afternoons in 1976 and eventually middays, with a #1 share in the Spring 1977 Arbitron ratings -- "Go figure!"). Then I went to work for a Christian FM start up, WPJS-FM, in Orangeburg, SC, then WCOS, Columbia (with "Charlie Jay," and eventually on to WMHK-FM on the campus of Columbia Bible College.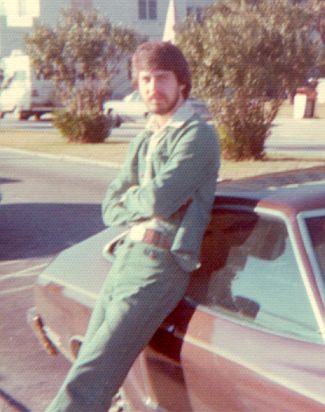 Robert St. John at the Battery (1977)
From there I moved to St. Louis in 1982 to attend Covenant Seminary (M.A.), and became their original media director in the mid-'80s. In 1992, I helped a former radio buddy (Don Hughes, from WMHK, Columbia) start an all-digital 100kw contemporary Christian FM station (KJIL) in southwest Kansas (since recognized twice as "Station of the Year" in America in its format).

Currently I teach ancient Latin and New Testament Greek in both high school and university settings in the greater St. Louis area. I've written a "book" on Greek grammar and have two language blogs that I use to teach from and a family photo morphing site ["Great Genes" Family Photo Morphing].
I have three school-age children, a boy and two girls (14, 12 and 9), too! Of course, I still dabble in media of all sorts, whenever possible, my first love still being (editing) audio.
Frank Stevens [Real name: Franklin Shoemaker] DJ. Later worked at WEZL and WTMA. Last known to be working in the retail industry in Charleston.
Al Stone This info was provided by his daughter, Helen in May of 2005:
Mr. Albert James Stone, or better known locally as DJ Al Stone:

He began a career in broadcasting in Cleveland, Ohio at WGAR Radio. (One interesting note: Al had a great start in radio as he sat next to Alan Freed at WGAR, the first disc jockey to broadcast a new type of music called "Rock and Roll.")

After a short career in Ohio he got a call from WCSC radio in 1952 and was asked if he wanted to relocate with his family to the Low Country of Charleston, South Carolina to begin a career at WCSC Radio and help develop a new media they called television. He was a pioneer along with many other famous local broadcasting personalities such as John Rivers Sr., Ken Klyce, Ken Goodman, Red Evans, Adrian Munzell, Stuart Spenser, Jim Whitaker, Bill Edwards, Carroll Godwin, and Charlie Hall. He was the first spokesperson for Piggly Wiggly on live television in Charleston. He had a local show on WCSC called "Al Stone's Record Shop" that played music while local teens danced and rated records live on the air (similar to "American Bandstand".)

In 1960 he left WCSC to start and be the co-owner of WNCG located on O'Hear Avenue, later in the City of North Charleston. A few years later he moved to WCIV-TV as a broadcasting and news personality. He later became an account executive for the station.

Al was also known for his assistance in later years with WTMA, WPAL, and Voice of America within various local radio and television stations.

After a long career in broadcasting Al decided to become a real estate broker. He also started the Lee Institute in the 1970s of which he was instrumental in assisting numerous local realtors to became certified from this course. He enjoyed selling homes and particularly took great pleasure in assisting young couples qualify for their first home.

In later years in his retirement he recorded books on tape for Northstar Audio. He appeared with Dan Moon numerous times on his WTMA morning talk show to reminisce of the old times and recount memories as a living veteran of Iwo Jima for past Memorial Day and Veteran's Day talk shows.

Al Stone passed away August 30, 2003.
Dave Turner Afternoon/evening DJ in the late-70s. Robert Braddock reports: "Dave Turner left WCSC in early 1979. He briefly got out of broadcasting before working at the Weather Channel. Dave is now a movie editor for Time/Warner-Turner Studios in Atlanta."
Jim Vann Operations Manager and morning host at WXTC (WCSC's FM station) between 1974 and 1978.
Jim writes on December 16, 2008:
I was at WXTC as ops mgr from '74-'78 (as I recall). Then we moved to St. Louis for a year and I came back briefly in '78 as an announcer. In addition to managing, I was on mornings on WXTC. I created a character named Virgil P. Suggins that would come on with Buzz Bowman on WCSC-AM a few times a week. Virgil got so popular, he had a fan club at MUSC and he was even the Grand Marshall of the Hell-Hole Swamp Festival. It was a proud moment, but I could have lived without judging the rattlesnake roundup.

Jim Vann (L) and Buzz Bowman on the WCSC-TV set in 1977 (photo restored by Bob Kight)
Buzz and I also hosted "All Night Theater" on WCSC-TV. Gus Bailey told us he had spared every expense on the movies so it was up to us if the show was to work. We did all kind of ridiculous stuff and would up beating Saturday Night Live in the ratings. (And that's when SNL was funny.) We would always close the show by thanking Channel 5 for giving us their TV station to play with.

I eventually moved back to Atlanta where I was part of the morning show on KICKS 101-5 for twenty years until this past February. I am still doing voiceovers and have written a book called, "Who Died...and Left You in Charge?" which is available on Amazon or at BN.com.

I have two grown daughters (both born in Charleston) and three perfect grandchildren.

For the record I no longer look like the porn star I resembled in the pictures on the site. But, then, Monty Jett no longer looks like Jesus, so I guess we're even.

Thanks for going to all this trouble. It brought back a lot of great memories.
Lisa Willis News anchor/reporter. Worked in the early '80s.
Lisa writes on September 23, 2008:
Harve Jacobs hired me away from WKZQ in Myrtle Beach where I had become their first female news anchor/reporter waking at the crack of dawn for the morning shift. Patty Meeks worked traffic. Yes, that was back when UPI was still in business and we worked off a ticker-tape machine for breaking news. In the TV station next door Charlie Hall and Mike Hiott were still using magnetic sunny faces and frowning clouds on the weather board.
With the help of fellow news team members, News Director Harve Jacobs and Pat Joyce, I won several awards for news excellence paving the way for a news career that spanned 19 years.
From WCSC radio, I was hired on as weekend weathercaster (another female first) at WCSC-TV. I held both jobs for a while then moved to Alabama for a full time career as a weathercaster.
Charleston was calling, so I jumped at a full time position as weathercaster at WCBD-TV when Karen McGuiness took a position as forecaster at CNN -- a position she is now back to after receiving a degree in Meteorology. Way to go Karen!
I eventually became a news anchor in New York at WWOR-TV, New York market; KOMO-TV, Seattle; WBFF-TV, Baltimore, MD; and ended my career in Miami at WPLG-TV, Miami -- my dream job.
I have so many amazing memories of Charleston and the people I worked with, some who as I read up on "whatever happened to...." are sadly no longer with us. WCSC is really where my career started and I am grateful for all the memories and hope the young reporters of today have as much fun as I did, way back then.
I am an artist now. I always was, but the life of a anchor/reporter was way more exciting back then. I live in Florida and in the Bahamas with a wonderful guy who thinks I'm pretty cool. (No kids.)
Good to see the history of WCSC in writing. It's a great walk down memory lane.
Steve Wright [Real name: Steven Capps] Late evening DJ. Do you know where he is today?
s Did you work on the air at WCSC Radio? Drop us a line. Please include your airname,
shift(s) worked, title (if any), time of WCSC employment, and what you did
before and after WCSC Radio, including what you're doing these days. Thanks!


Home | DJs | Features | Audio | Photos | WTMA | WOKE | Contact