The Saga of "Rock Charles"
By Robert St. John

The following Robert St. John "Saga of 'Rock Charles'" aircheck recorded was during the two-week long WCSC DJ billboard painting contest/promotion, November 19 through December 6, 1976. ("Rock Charles" was a fictitious Charleston heath spa owner and DJ impersonator/impressionist.

Billboard Contest Chronology

Friday Nov. 19, 1976: Blank DJ billboards up and ready to paint (Herb Carson, Brother Dave Derek, Monty Jett [Production Director], Mike Hiott [news], Dave Turner, Robert St. John, and weekender Gary Baize)

Thursday Nov. 25, 1976: Thanksgiving Day

Monday Dec. 6, 1976: Billboard DJ winner on the air announcement @ 5 p.m. (winner: Dave Turner)
I broke the aircheck into segments for easier access. This was one of the most enjoyable spontaneously creative experiences I ever had in my active radio days. I have to admit though, I was ready for it to end after a couple of weeks; the fictitious "ruse" -- that everyone listening willingly and creatively "went along with" -- became somewhat tedious after about two weeks. About the time I was seriously wondering about how to end our little ruse, a creative listener literally read my mind and offered up the same idea that had just dawned on me. (See note on Part 6 below.) By the way, weekender Gary Baize was part of my billboard painting activity since I was still recuperating from a herniated disc in my low back from mid-summer. He was there as a safety precaution for our billboard (spray-) painting extravaganza on that chilly, soggy November 19th Friday.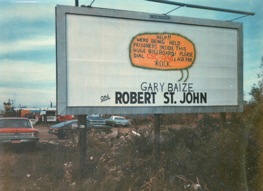 Part 1: The billboard contest begins. "Rock Charles" (fictitious impressionist) on the air calls Gary Baize inside the billboard.
The Saga of Rock Charles Part 1
5:12 - 2439 KB
Part 2: The contest moves on, including Herb Carson's "Cheech and Chong" impression promo. Herb could do about 13 or 14 well-known celebrities of the day, including Richard Nixon and Spiro Agnew. Herb was a "natural" impressionist of first caliber. (Wish we could find out where he is and what he's doing now.)
The Saga of Rock Charles Part 2
5:49 - 2729 KB
Part 3: Gary Baize calls the radio station from inside the billboard.
The Saga of Rock Charles Part 3
6:08 - 2876 KB
Part 4: Creative listeners play along with an obviously fictitious ruse, offering numerous suggestions on how to rescue St. John and Baize from this nasty, mean billboard on Spruill Ave. near the exit to the naval base in North Charleston.
The Saga of Rock Charles Part 4
4:37 - 2165 KB
Part 5: St. John and Baize spend Thanksgiving Day inside the billboard. (Any way to get turkey in?)
The Saga of Rock Charles Part 5
5:11 - 2430 KB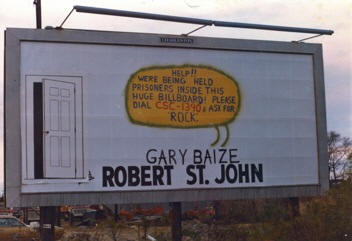 Part 6: The way of rescue/escape from the billboard made by listener/caller Linda Rutan of North Charleston. The coincidental irony of this is that I had already contacted the billboard company earlier during the same day to accomplish this very task. They rolled up the partially opened door during the early hours of pre-dawn the next morning before morning drive time!
The Saga of Rock Charles Part 6
6:31 - 3056 KB
Part 7: The return of Robert St. John, having been released from the billboard.
The Saga of Rock Charles Part 7
5:44 - 2694 KB
Part 8: DJ billboard winner (Dave Turner) announced at 5 p.m. on the Robert St. John show. Dave had recruited all of his late night, overnight nurse friends to send in multiple votes per household. (Hmmm...I guess we didn't rule that out, did we?) The fun thing for me was that winning the weekend getaway to Hilton Head Island could not have surpassed the fun I had going through the promotion itself.
The Saga of Rock Charles Part 8
4:18 - 2016 KB